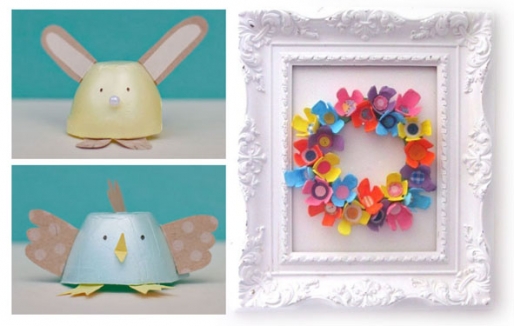 Egg hunts, and visits to see a giant bunny. Jelly beans before breakfest, and a ham as big as your head. What defines Easter for your family? This year, start a new, eco-friendly tradition. Try these crafts using recylced items to add a little Easter Bunny charm to your house this spring.
Recycled Easter Basket: Wash out empty tin cans and pop bottles, and attach ribbon or pipe cleaners to make a handle. If you have enough time to let them grow, plant grass seeds at the bottom of the basket instead of using plastic, fake grass.

Natural Egg Coloring: Instead of using store-bought, chemical-filled egg dye, use coffee, beet juice, and blueberries to stain your eggs. Need more ideas? Remember the last time you couldn't get a stain out of your kids' clothes? Use whatever the culprit was to stain your eggs (on purpose this time).

Toilet Paper Bunnies and Chicks: Use empty toilet paper rolls, colored paper, and feathers to make a bunny or chick. On Sunday morning, the Easter Bunny can use the decoration to hide jelly beans.

Egg Carton Bunnies and Chicks: Same concept, different material. Cut apart an egg carton, and decorate the egg holder portion to look like a bunny or chick. (see photo)

Egg Carton Flower Wreath: Cut apart an egg carton, and paint the inside and outside of the egg holder portion. When dry, cut four slits in the "corners" of the painted carton. Gather all of your flowers together, and put glue on the edges to connect them in a circle (or egg) shape. (see photo)

Egg Garland: Create a spring-time garland using old paint chips. Cut the chips into egg shapes. Punch two holes at the top, side by side. Thread a long string through each of the holes, and string together all of the eggs.

Using materials you have around the house will teach children to be resourceful, and will stimulate their creativity. Use everyday items to decorate your home for every holiday and season.

Source and photo: Donna MacMullin