This is the second of four articles discussing lessons Bill McIntyre learned while assisting his father, who was diagnosed with dementia in October 2016. These are lessons that no one prepared him for.
Lesson 2: The differences between a Power of Attorney, Guardianship, and Conservatorship.
At the end of last month's article, my father's power of attorney was activated, which allowed my brother Mike to act on my father's behalf. My brother began the difficult process of working with my dad to make sure he was getting the medical help he needed and began to keep a watchful eye on dad's finances to make sure bills were paid on time.
In September 2017, I received a call from my brother asking if I would take over as power of attorney.
Whenever I describe my dad, I ask people if they have ever seen Grumpy Old Men. My dad was born grumpy—and stayed that way. Add dementia to his already grumpy mood and you get fierce resistance toward any kind of help. After many months, many arguments and many cruel words from my dad, my brother was exhausted.
I reached out to my attorney for his input. Since a doctor had declared Dad unable to make his own decisions, he couldn't name a new power of attorney. The right thing to do was to petition the court for Guardianship & Conservatorship, so that I would have the legal authority to help my dad.
Here are the basic definitions of the power the three, and a summary of the key differences:
Power of Attorney
A power of attorney is appointed by the individual to handle legal, financial or medical affairs on his or her behalf, before her or she becomes unable to do so. POAs can access bank accounts, file legal actions and make decisions about medical care. Typically, the POA stays in place until death, or until canceled or revoked. Typically, a POA can't override someone's decisions.
Guardianship
A court appoints a guardian to be responsible for someone's well-being after he or she becomes incapacitated. The guardianship remains in place until death, or until the person can demonstrate that he or she is mentally competent. In most cases, a Guardian or Conservator can override a person's decisions.
Conservatorship
In Michigan, a conservatorship is put in place by a court to handle someone's financial matters.
I was named my dad's guardian on November 1, 2017, and his conservator shortly after, on November 23, 2017. After this, my brother and I were finally able to get him to stop driving, get the care he needs, and prevent him from going to Florida where he might harm himself.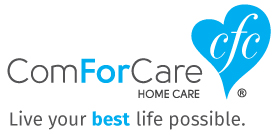 If you or someone you know needs help caring for an elderly relative, contact ComForCare Senior Services at 616. 285.7000, or visit www.comforcare.com/kent-county for more information.
Written by Bill McIntyre. Watch for the third article in this series, where Bill discusses important facts he learned about Medicare.