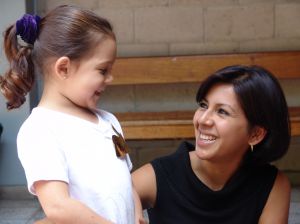 Children are like treasures, precious and vulnerable, and as parents, women want to protect their gems as much as possible. Make sure your children are in good hands when you leave them with a babysitter. Interview caretakers and introduce your children to them before you leave home.
Parents looking for a babysitter are essentially bosses looking for a new employee. As such, require references and a resume from potential babysitters, and review it before you call them to watch your kids on a Friday night. Resumes will outline your babysitter's education, and what experience the babysitter has with childcare and potential emergency situations.
Call your sitter-to-be's references to get an idea of what age groups she has experience with, and how she has interacted with other children. Ask if the references' children enjoy your applicant as a babysitter. You can also use references to get an idea of what others pay for babysitting services.
If your sitter makes the cut, invite her over to meet your family. Sitting down with her in a casual setting will give your children a chance to meet her and get used to her as well as give you the chance to ask her questions of your own. A situational question and answer session will help give you a feel for the candidate's skill set and instinct when it comes to childcare. Ask questions like:
What would you do if you were playing outside, and you and the kids got locked out of the house?

What would you do if there were a fire in the house?

What would you do if there were stranger at the door?

What would you do if my child refused to go to bed/eat her dinner/take a bath?
Other questions you may want to ask include:
Do you have a reliable form of transportation, or do you need to be picked up and brought home?

Are you comfortable making meals?

Are you CPR/First Aid Certified?




What is your availability?

What are your hourly payment requirements?
Discuss your house rules before you hire a sitter so that she has a clear idea of what you expect from her. Will you allow her to have friends over while she is taking care of your children? Will you allow her to make phone calls, on your phone or on her cell phone? Can your children watch TV while she babysits? Can she watch TV after the children go to bed? Is the food in your refrigerator up for grabs?
Finding a good babysitter may take time, but will be worth the process. Knowing that your children are in able hands will allow you to run errands or enjoy a night out without worry. Share your babysitter experiences with West Michigan Woman on Facebook or Twitter!
Written by: Erika Fifelski was born and raised in West Michigan, and after a brief stint on the sunrise side, she's home and loving it. Erika enjoys cooking, sewing, vacuuming, and discovering new ways to live sustainably and support local businesses. Photo: Heriberto Herrera