The breathtaking colors of autumn in West Michigan rival any town, anywhere, and lure both residents and visitors outside to bask in their beauty. But one short season later, winter ushers in colder temps that send us scurrying into the cozy cocoon of our homes.
This year, eschew the temptation to hibernate. Instead, bundle up, get everyone to ditch electronics for a few hours, and embrace the sparkly winter wonderland outside. If you're not sure where to start (other than making snow angels or snowshoeing), plenty of summer games work in the winter, too. Consider starting with a rousing game of Capture the Flag: The Snow Version.
Here, local moms share how their families greet West Michigan winters with a smile.
---
Each of my kids has a small snow shovel just their size. They have fun throwing the snow with their shovels, making pathways in the yard and helping clear the walkways. Even our baby walks around with a little shovel, moving the big, wet snow out of her way.
—Marie Clark, Ada
---
1. Sledding for sure! We love the hill at Christ Community Church at Burton and Forest Hills.
2. Snowman building with Dad. The bigger the better!
3. Winter hikes in the woods, either at Peace Park or Calvin College nature hike (Ecosystem Preserve Trails).
4. Lots and lots of hot chocolate!
5. Skiing at Cannonsburg. Sunday nights are the best prices.
—Sarah Anne Nemmers, Grand Rapids
---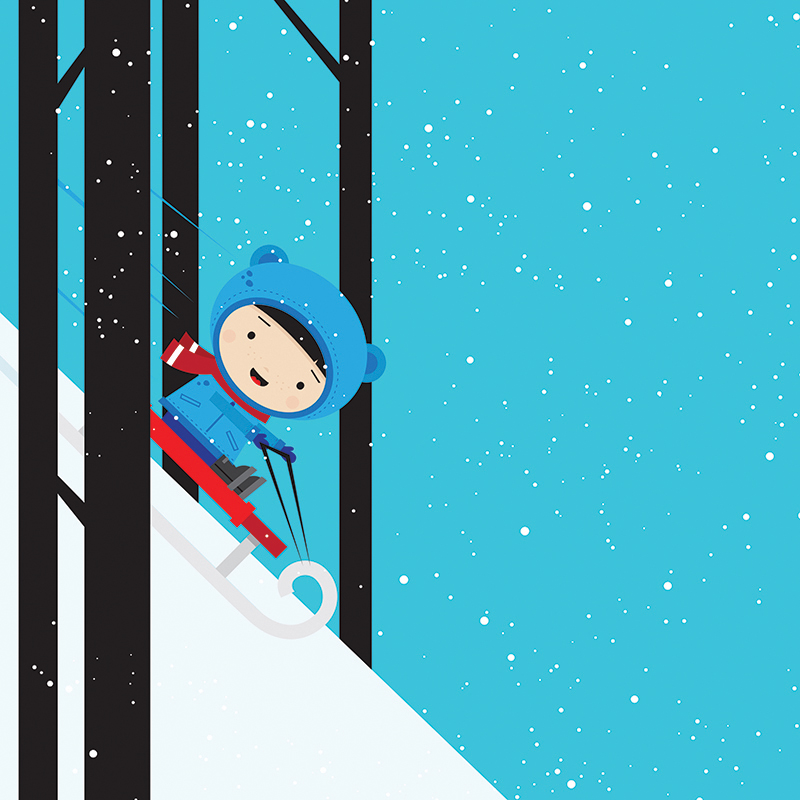 My family enjoys ice fishing and cross-country skiing the most in the winter. Ice fishing is for anyone who likes to relax and be out in the beautiful brisk air of a peaceful Michigan winter. It doesn't require a huge investment, just an auger, a few poles, and adequate bait. The quiet offers awesome time for conversation and tipping a few beers if that fits your fancy. Don't let the cold scare you. All you need is a lake with public access.
Another thing we like to do together is cross-country ski at Pigeon Creek. They have beautiful trails, it's inexpensive, it's great exercise, and they have courses for all ages and sizes. Equipment is right there to rent, or bring your own. A wonderful fire, hot chocolate, and an awesome sledding hill await you at the end. It's a great way to spend an afternoon.
—Amanda Regnerus, Grandville
---
This winter will be our fourth year setting up an ice rink in our backyard. We build it when the weather looks favorable—which means it's cold enough that the water will freeze when we flood it! My husband, Brad, and both of my sons, Devin and Ayden, play or have played hockey, so it gets plenty of use. We see lots of stick work and slap shots. It's so fun for me to watch Brad and the kids through the window. We even have floodlights so they can skate at night.
—Mary Riley, Ada
---
We got a trampoline this summer, so I imagine a snowball Gaga game or two will be happening this winter!
—Antoinette Tietema, Ada
---
We have our driveway plowed and they always push the snow into the same spot, so it creates the perfect mound to build a snow fort. My kids dig intricate tunnel systems, create living rooms and kitchens, and spend hours perfecting their "snow homes." Simple gardening tools (shovels, spades, picks) and a lot of manpower make the best construction equipment, so Mom and Dad, get out there and build with your kids!
—Erin Winkel, East Grand Rapids
---
10 Favorite Area Sledding Hills

Safety first: Wear helmets!
1. Caledonia Lakeside Park, 370 Lake Street, Caledonia
2. Cascade Township Park, 3810 Thornapple River Drive SE, Grand Rapids
3. Charlie's Dump, 1856 Rosewood, Jenison
4. Christ Community Church, 2400 Forest Hills Avenue, Grand Rapids
5. Grand Valley Armory, 1200 44th Street SW, Wyoming
6. Johnson Park, 2600 Wilson Avenue, Walker
7. Kroc Center, 2500 Division Avenue South, Grand Rapids
8. Manhattan Park, 3180 Cascade Road, East Grand Rapids
9. Richmond Park, 1101 Richmond NW, Grand Rapids
10. Wabasis Lake Park, 11220 Springhill Drive, Greenville