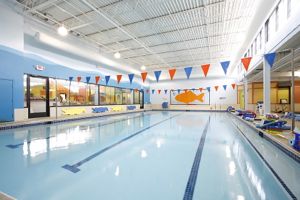 Drowning is the second leading cause of accidental death among children ages one to four, and ten to fourteen, according to 2011 statistics. More than 4,000 children drowned in 2010, and 65 percent of those children drowned in a backyard pool.
These devastating statistics are exactly why Kendra Reinoehl and Matt Watson are looking to bring more water safety education to the West Michigan area. The pair is opening a Goldfish Swim School in Grand Rapids this spring.
"It's a life skill for all children in a water-based community like West Michigan. It's even more imperative that they learn how to swim and water safety in general," Kendra says.
Even under the watchful eye of parents, children are at risk if they are without basic water safety skills. Seventy-seven percent of the children who drown were out of their parents' site for less than five minutes. Kendra and Matt start their lessons with infants teaching them instinctive reactions to potential danger.
First, Matt says, babies are taught to relax and breathe. By pouring water onto new swimmers, children are conditioned to close their mouths on contact, so that if they do go underwater, they will know how to avoid swallowing water. Swimmers are also taught how to crawl up and out of the pool.
Parents' involvement in their children's water education is important to enhancing the lessons, Kendra says. The parents are an "extremely important part of it."
Spend some times with your children before or during spring break honing their safety and swimming skills and avoiding any potential danger.
Written by: Erika Fifelski was born and raised in West Michigan, and after a brief stint on the sunrise side, she's home and loving it. Erika enjoys cooking, sewing, vacuuming, and discovering new ways to live sustainably and support local businesses.