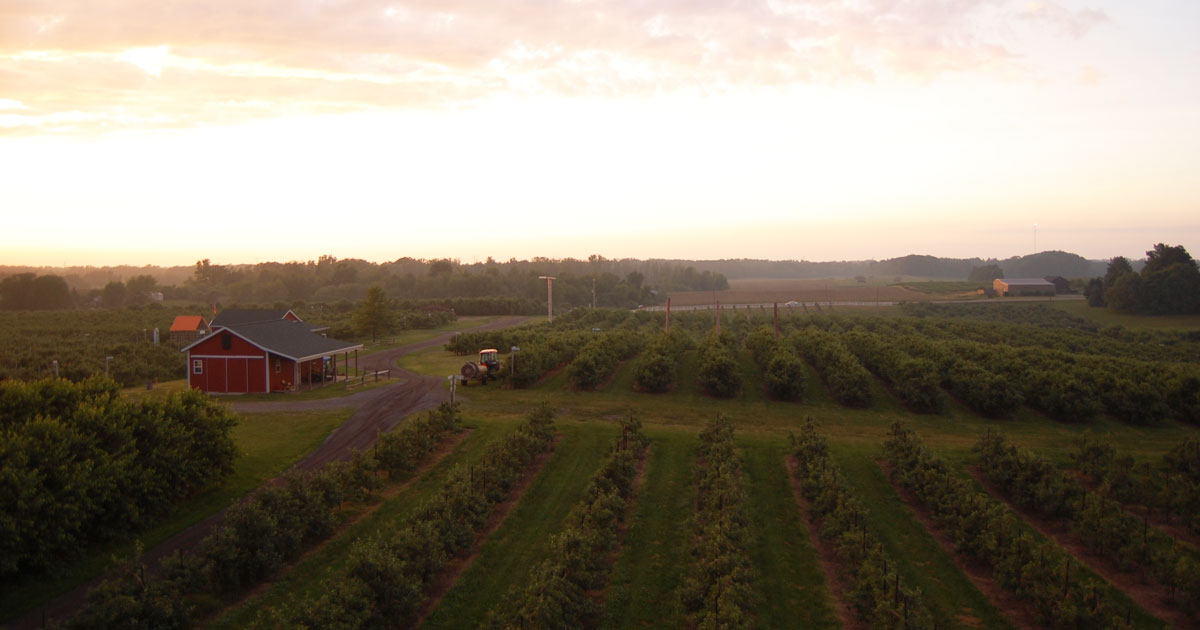 Fresh cider, warm doughnuts, the smell of cinnamon—treats from West Michigan's numerous orchards are part of many families' fall traditions.
A good many orchards are family businesses, preserving tastes of a bygone way of life. Each has its own distinctive character and offerings. Take time to savor the season's bounty at some of our favorite locations.
Crane Orchards A family business begun in 1917, Crane Orchards offers a corn maze, cow train, hay rides, and even a vacation rental house, along with 17 apple varieties. The U-pick season begins Labor Day weekend.
www.craneorchards.com | 269.561.8651 | 6054 124th Avenue, Fennville
Robinette's Apple Haus & Winery Along with savory apple and cheese breads, cookies and doughnuts, and award-winning hard ciders and wines, Robinette's offers a bakery and lunch counter, and gift boxes and baskets. A jump pillow, hay rides, and corn maze provide lots to keep the kids busy, while activities for adults include wine and cider tasting, and a mountain bike path through the orchard. The first apples of the season were expected in late July.
www.robinettes.com | 616.361.7180 | 3142 4 Mile Road NE, Grand Rapids




Sietsema Orchards & Cider Mill A fifth-generation family business, Sietsema Orchards was begun during the Great Depression. With hay ride tours, farm-to-table dinners, heirloom apples, and hard cider so good it's sold at several of Grand Rapids' "foodiest" locations, it offers what "what an orchard should be," said Andy Sietsema. "A place to relax, walk through the orchard, pick out a pumpkin, learn something, and enjoy great apples, food, and cider."
www.sietsemaorchards.com | 616.676.5584 | 8540 2 Mile Road, Ada
Steffens Orchards & Market A fourth-generation family farm, Steffens' market offers picked apples, jams, pies, cookies, fresh doughnuts, and a peaceful U-pick experience. "Many people love the fact that we don't have the hustle and bustle of the much larger farm entertainment," said Christine Steffens. The orchard offers more than a dozen variety of apples, including Honeycrisp. The market opens September 1.
www.steffensorchardmarket.com | 616.887.2404 | 4344 13 Mile Road NW, Sparta
For recipes and tips for visiting orchards and storing apples, click here to read this article in its entirety in the digital edition of West Michigan Woman magazine.
Photo courtesy of Crane Orchards.