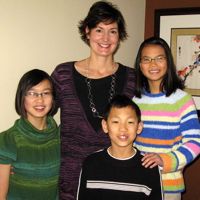 Standing in the middle of a country with people who speak a different language, eat a different food, where things smell different, feel different, sound different, Laurel Shippert didn't know much, nothing in fact, except that the baby in her arms was hers, forever.
Laurel and her husband Philip didn't expect to adopt three children from China. They expected, like most young couples, to create a family without paperwork, and the Chinese Consulate. But life has a funny way of rerouting plans, which shaped the Shippert home three fold.
Laurel and Philip started the adoption process in 1997 after what Laurel calls divine intervention.
"I remember thinking to myself as I went through the booklet of all the different countries…I sure hope Philip is thinking China. To me it seemed like the only option," she says. "A couple days later, I broached the subject and asked him, 'What country are you thinking?' I was scared it would be a different country, but he said he felt very sure it was China. We just believe that was the country that the Lord wanted us to adopt from."
It was thirteen months from the time Laurel called to inquire about adopting a baby that she and her husband arrived in Chongqing where they would meet their daughter, Lucie, for the first time.
"It was a pretty strange experience becoming a parent for the first time half way across the world," Laurel says.
Because of a last minute change of plans, the Shipperts found themselves bumping along in a van at 10 p.m. As they headed toward the orphanage, they realized they'd packed the camera in the other bag, much to Phillip's–a professional photographer–chagrin.
"It's funny because you're waiting, and waiting, and waiting, and then it's like, wait! I'm not ready," Laurel says. "We arrived at the orphanage at eleven at night. It was pitch black and there were not many lights on in there. It was freezing cold, and kind of dank. We went up a spiral staircase into a room, and there were all these Chinese ladies holding babies. I was looking at them trying to figure out which one was mine."
Two years later, they were back to adopt their second daughter, Violet. Although she was a quiet, less-demanding baby, the adoption did not come without its hiccups. Eleven-month-old Violet was suffering from severe repercussions of neglect, and she couldn't even hold her head up on her own. Days of tests, physical therapy, and constant attention from Laurel and Philip later, she was sitting up, and ready to go home.
"They respond enormously to the attention. They go from getting little attention to two people who have been waiting for them, playing with them, holding them, bathing them, talking, singing. They're getting tons of attention so they just really start to thrive," Laurel says.
The Shipperts adopted a third child, Jonathan, not long after, and the process was quicker because he had a special needs. It took nine months from start to finish, and he was two and a half years old when Laurel and Philip picked him up.
"His process… almost seemed the longest because from the very beginning we had a picture of him, so we knew this child was there and getting older everyday," Laurel says. "Once you have the picture of the baby, you're like, get me on the next plane…You're like, that's my baby, he's supposed to be in my arms, not halfway across the world in an orphanage," Laurel says.
The Shipperts have tried to maintain an authentic sense of Chinese culture for their three children. They celebrate Chinese New Year, and eat traditional foods like dumpling soup. They also celebrate the day each child was adopted with a special gift.
"On each trip, we bought them eighteen gifts, and have squirreled them away in the house, and every year, they get one," Laurel says.
The family is planning a trip to China, and Laurel said she thinks they'll be culture shocked.
"To an extent, they know, but I think really faced with it, it's going to be huge. I don't know how it will be for them to all of the sudden be faced with 'This could have been my life, and here I am feeling like an outsider.' Basically, they're American kids going back to a country that they don't have connection to except in their heart."
Laurel and Philip are fulfilled. Each trip to China, every single piece of paperwork, the waiting, and the day-to-day hurdles and joys have led them exactly where they know they should be.
"It's not the easiest thing in the world, but I'm very grateful for the three kids I have, and very grateful that the kids are who they are, and that we were able to adopt. I would not change anything," Laurel says.
Written by: Erika Fifelski was born and raised in West Michigan, and after a brief stint on the sunrise side, she's home and loving it. Erika enjoys cooking, sewing, vacuuming, and discovering new ways to live sustainably and support local businesses.