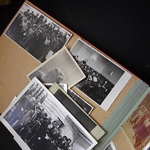 Seeking out ways for your family to bond this winter season? Look no further than your own neighborhood. Lending a charitable hand or cozying up in your own home can be fun for the whole family.

 Unplug, and try these family-fun activities!
• Shoveling—La Niña promises to dump snow on West Michigan this winter, but that's good news for your daughters and sons, if they don't mind a little hard work. Whether school is canceled or your family is together on the weekend, pass out the shovels and get to work. Ask an elderly neighbor if they can lend you their snowy driveway or sidewalk for the afternoon. You'll provide them a much-needed service, and you'll pass on a good work ethic and thoughtfulness to your children. Increase community spirit this winter.


• Make your family in the snow—Use items of clothing from your closets to decorate snowmen that replicate your family. Don't forget to match the heights! 


• Too cold to go outdoors? Take a trip down memory lane. Remember that box of pictures you set aside to use for scrapbooking? Let's face it, there's never enough time to scrapbook, but you can revive that family tree. Use the pictures to pass on your family's history to your children. Show them old photos of their grandparents and see if they can guess who's who. You can even point out features in relatives that may be reflected in your children's faces. 


• It's a time-tested classic your families will love—There's nothing more comforting than the smell, and taste, of freshly baked cookies. This activity is packed with teachable moments. Use measurements as a way to teach fractions. Use licking the beaters as a way to teach sharing. Gather your ingredients and your children to make this tradition a family favorite. 

Written by: Erika Fifelski was born and raised in West Michigan, and after a brief stint on the sunrise side, she's home and loving it. Erika enjoys cooking, sewing, vacuuming, and discovering new ways to live sustainably and support local businesses. Photo Credit: everystockphoto