Winner of the ArtPrize Fashion Force Challenge, Liesl Geneva is preparing to wow the audience at the upcoming Style Battle serving as the first ever "ArtPrize Ambassador." Her clothing designs are distinct and full of spirit, so is her personality.
Liesl is a native of the Grand Rapids area and has always considered herself a creative spirit. After dabbling in the screen printing business for six years, she found herself in California, jobless and struggling to make connections.
"It was a hard moment in my life," says Liesl, "I needed to find an outlet for the frustration I was experiencing."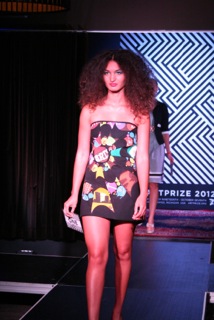 One day out of sheer anger Liesl grabbed a shirt from the ground and ripped it apart. She then gently and creatively began reassembling the shirt, experimenting with fashion. Eventually this project led her to create a butterfly image with the shape of a woman in the middle. Out of frustration came revelation and Liesl used this image to kick start her career in fashion design founding Apparel Artistry.
After moving back to the Grand Rapids area in 2009, Liesl was able to distinguish herself statewide as a talented designer by creating authentic, one of a kind items tailored to fit any woman ranging from a size two to a size twenty-two.
"Everything I design is focused on making every woman feel beautiful," says Liesl. "My clothes should bring out the beauty in my customer no matter the size."
Liesl tries to highlight the natural shape of a woman's body helping them see themselves in a whole new light. Liesel has characterized many of her creations as "re:constructed outfits" by taking apart an original piece and redesigning it using jewelry, chains, clasps, and ribbons to make a truly unique item.
"I've always loved clothes, but never saw myself as a fashion designer," says Liesl, "I'm more of an artist who plays with fabric."
The dress she designed for the Fashion Force Challenge was incredible. Taking an opt art design from ArtPrize last year, Liesl enlarged it, cut it apart, and then put it back together in the shape of a floor length, beautiful dress.
"Over two hundred pieces went into that dress," says Liesl, "I was completely shocked that I won, the whole night was fantastic."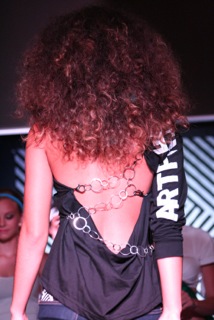 Since being coined "ArtPrize Ambassador" of Style Battle, momentum has been building in a very positive direction. She is now being recognized in the Grand Rapids area for her talents and business is booming.
"My social media reach increased 1,000 percent in the span of a week, that's crazy!" exclaims Liesl.
As the "ArtPrize Ambassador," Liesl will receive a style team and stipend in preparation for the upcoming Style Battle competition. Style Battle is an interactive fashion competition that highlights local fashion entrepreneurs, gives the audience a voice, and makes art a platform to showcase the competitors in a fun, interesting way. Taking place on September 27 at the Goei Center, teams of fashion professionals–one clothing retailer, photographer, hairstylist, makeup artist, and four models–will set up style stations in an open floor plan to collaboratively create four unique, thematic, "looks" on their models in three hours. The floor plan allows audience members to congregate and observe each station as the professionals work their magic. Team photographers shoot, edit, and project images during the entire process. The climax of the event takes place as a fashion show, showcasing every team and their completed looks. The audience will have an opportunity to vote and determine the winners. Winners receive a cash prize and some serious notoriety in the Grand Rapids Community.
To see more of Liesl before Style Battle, she will be participating in the Artshop on September 21-23 at 106 S. Division or shop online by clicking here.
Written by: Chelsea Slocum is a resident of Grand Rapids. She works as an educator and freelance writer. She enjoys learning about new and different things happening in the city and spending time with her husband, two crazy kids, family, and friends.