"This is me. I am what you see."
When Dr. Nkechy Ekere Ezeh learned she was a West Michigan Woman Brilliance Awards Woman of the Year finalist, she almost didn't respond with the additional information requested for the selection process. The Early Learning Neighborhood Collaborative founder and CEO told herself, "You are not going to win."
Then she told herself, "Go ahead and submit it."
Meet the 2018 Woman of the Year.
When Nkechy was a little girl in Nigeria, dreaming of her future, she didn't dream of being around children. "They were too messy; too much." The third of eight children, she was not all that excited by the news of another baby brother or sister arriving. She preferred to imagine owning a business and becoming a strong leader. While she loved having her mother always home, taking care of the family, she pictured her future self as more like her father—bold and strong!
As a child, Nkechy didn't understand why her mom had to ask her dad for money, to shop for the family's food. Why didn't she have her own money? It somehow felt as though this made her mom seem less important and not in charge. Nkechy remembers telling her mom, "When I grow up, I don't want to be like you." Her mother smiled and replied, "You don't have to be like me. Be yourself."
Once she was older and had a family of her own, Nkechy realized that while her mother publicly appeared a traditional subservient Nigerian wife, behind the scenes was a different story.
"It never occurred to me then that my parents had jointly developed a system for how they would make their marriage work within their culture and both were happy playing their perspective roles. I don't even remember a time that my dad challenged my mom about the amount of money requested—he just handed it over to her, no questions asked."
Her parents took great lengths to ensure their four daughters, growing up within a culture based on a patriarchal society, were raised to be strong women. They were sent to Catholic schools and taught by nuns who embodied the meaning of servant leader. Nkechy thought the nuns had everything: They were educated women with careers. They were on their own, without the additional responsibilities of a husband or children.
A blend of her parents, Nkechy possesses strength and a tender heart. "Injustice makes me cry." Her father told her it's OK to cry—and when you're finished, sit up and be strong. She comes from a large, strong family and now has a large, strong family: She and her husband, Pius, are parents to Onyinye MK, Obinna, Kay, Nnenna and Nkechy Nicole (Niki).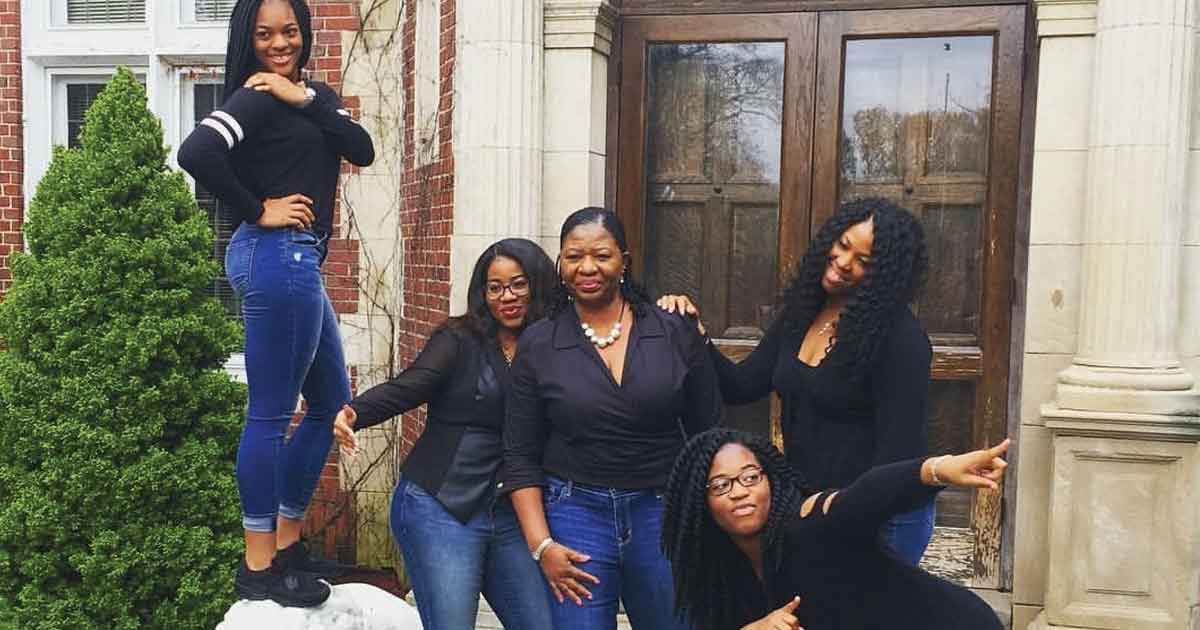 She respects her childhood lessons. "I was a typical third child. I thought my sister had more, because she was the oldest. I thought my brother had more, because he was the boy." When she was less than kind to her brother, her dad told her to say she was sorry.
"Only strong people say they're sorry, Daddy said. Look people in the eye. Say 'I'm sorry.' Daddy said it makes me stronger."
Her parents recognized Nkechy was her own person and they encouraged her. A natural leader, she wanted to be heard. Her mother guided her, silently. Her father protected her and raised her to be a progressive woman, though she didn't realize it.
She did know things needed to be different.
"Daddy was really before his time. He wanted women to have a place in our village, without upsetting the elders." He would test the waters. He would ask Nkechy to speak out, even when people didn't expect or accept it. She recalls one time when, while speaking, she heard rumblings from the audience. Her dad caught her eye and signaled her to stop. Afterward he told her, "They aren't ready."
Read your audience, she learned. Customize your message. Her father often gave her nonverbal cues, looking for her reaction. He taught, without directly teaching. "Dad did things that most men in that time didn't do." Her father was a businessman; he was also a traditional chief, who was able to bridge relations in his community. "He did it all!"
Her mother's advice was pivotal. "I feel like my mom released me to be strong that day when she told me, 'Whoever you are, be OK with that. Be yourself. No matter what.'"
Nkechy came to America at 19—joining her husband, who'd come to attend college. She arrived amid January cold and snow, which she'd never seen before. "I thought, 'I'm going to run back home!'" In March, she began early spring classes at then-Grand Rapids Junior College.
It wasn't easy coming from Nigeria. "There was no family support; just me and my husband." She became involved with the African-American and Catholic communities. She taught Sunday school at a Baptist church, then went to St. Andrew's for services. She found the Dominican Sisters and started a relationship with the local Dominican Center.
And she knew she could be herself.
"I'm blessed to have both cultures. You don't have to give up who you are." She retains the accent that reflects who she has always been. "It completes me."
Education was always important to Nkechy, who found support in educators and in the GRJC library. "There were so many books!" Among them she saw materials on child development. "I thought, 'What in the world?' and started reading about it."
Despite her youthful dream of a future without children, Nkechy was drawn to Early Childhood Education. "The things you are called to do are sometimes the things you were running away from."
She initially thought working in the children's lab would be easy. Then she encountered 4-year-old Kathleen—who told the other children not to play with Nkechy, saying, "She talks funny." Nkechy felt bad and went home sad. Eventually, she developed a plan.
The woman who always needs to see the big picture started with the end in mind. "I thought, I have to get there first. If I'm uncomfortable, I have to be in the room first."
She said, "We have to talk" to Kathleen, who replied "NO." Nkechy told her other young charges "only special people talk like this." She and Kathleen finally became friends, the youngster unable to overcome her curiosity about this special person.
"I love Kathleen—my Kathleen! She was so full of energy. She knew herself. She pushed me to be better. She taught me to always have a second plan. She taught me not to take children for granted. Kathleen threw me one of the biggest curve balls in America. She, too, was a natural leader. She was one of those people God put in my path."
That moment that almost broke her, taught her. "You can learn from anybody. You have to be humble enough to be able to see that."
Early Learning Neighborhood Collaborative was born of Nkechy's desire to see children and their families empowered, not marginalized. She envisions a community in which all children, regardless of circumstances, have the opportunity to thrive in their development and their education; in which they will embrace their potential and grow to become self-sufficient adults.
Nkechy wants to honor her mom, who quietly helped cultivate the woman she is today—the woman who cultivates and lifts up others. "She nudged me a lot. I want those nudges to be LOUD."
She speaks to legislators about children and brings data, driving opportunity for ELNC and its programs and services. "We need to empower the least privileged among us—children and their families." She has a passion for preparing future generations and lifting the parents to be the first teachers.
She wants to give back.
"America has been good to me! My parents gave me a voice and permission to be myself. America gave me the space to try!"
Nkechy enjoys having the freedom of speech to question things that don't seem to be working. She's happy to be in a culture that supports her belief that people can solve their own problems—with the right resources. She's able to do the work she does with children by pushing back at the system and challenging the status quo.
"I'm not a communicator, an orator, a powerful speaker. But I speak my voice."
Written by Amy L Charles, West Michigan Woman Editorial Director
Main photo courtesy of Kelly Braman Photography.