Sandra Gaddy was born and raised on Detroit's east side. She's a J.W. Finney High School graduate. Her dad was a pastor and a Chrysler autoworker; her mom started a home daycare when she was 7. Sandra is the second child and first girl among three sons and three daughters. For her, Detroit was a rich experience—diverse, urban living, the city, the arts, athletics.
"I love, love, LOVE my Detroit!"
She grew to love her Grand Rapids.
Although Sandra has been here for 25 years—her husband, Arlen, is from the city—she landed kicking and screaming. But it was his city; she'd learn to love it. She immediately appreciated the access to so many bodies of water, yet took time to warm to the area.
"When I arrived, there was no night life. It didn't feel as though the arts were that diverse. Now, to come from south of town and drive into downtown, it's wonderful!"
Her path toward West Michigan began with then-Ferris State College. Sandra wanted to attend UCLA or be in New York, but her parents wouldn't let it happen. A visit to Lake Superior State University in the U.P. with her father proved their point; even that was too far from the Detroit she loved.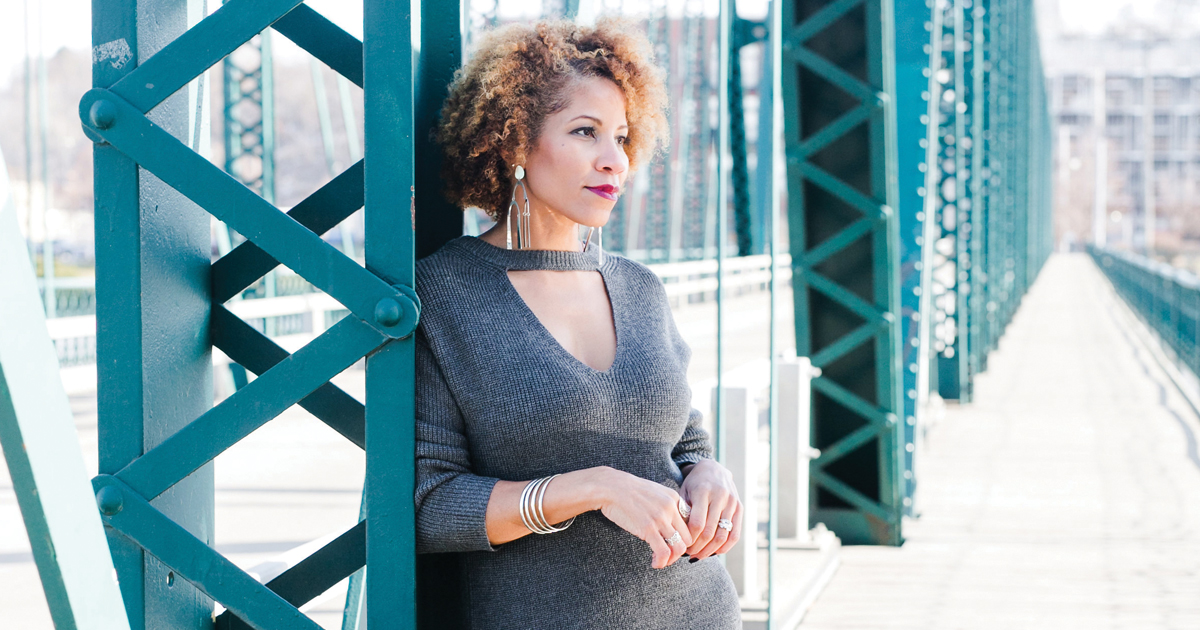 Photo Courtesy of Kelly Braman Photography.
Sandra and Arlen met during her freshman year of college, the year he graduated from Ohio State University. "I'm a Buckeye by marriage," she quips. She later attended Cornerstone University, earning a business management degree. The day they met she'd told Arlen to "go away," but he had other ideas and told a fraternity brother he would marry her. They've been together almost 30 years. Three children and two grandchildren—Marissa, Garrison, Angelique, Markey, Miya—fill their hearts. Family is Sandra's priority.
Sandra loves singing. She started dancing—modern and jazz—when young. Her rich Detroit arts exposure turned to love when Alvin Ailey and Judith Jamison visited her high school. After graduation, she wanted to audition for Alvin Ailey American Dance Theater in New York. Although that was not her reality, she has enjoyed following their performances for over 25 years. Ailey II performed in Grand Rapids many years ago, and Sandra is determined to bring the company here to perform Revelations.
"Dance takes my breath away."
As much as she loves the arts, she loves sports and she grew to love football. "Arlen has created a monster!" Watching her son play and her husband coach taught her much about the game; her youngest daughter was even the team manager. Sandra was so knowledgeable about football, she co-taught basics with coach Mark Tamminga, at South Christian High School. "Knowing the basics helped me better understand the game and become more engaged in a sport my son enjoyed. I wanted to share that with other moms." She hopes to do the same with coaching staff at Ottawa Hills High School, Arlen's alma mater.
When the children were in school, Sandra started building her community network. It took several years for her to feel comfortable here. "I grew up in a city that was diverse. I saw people of color—black and Latino—in leadership roles. I went to a predominately black high school."
Yet Sandra always felt comfortable plugging into community service organizations. A favorite quotation, from the late administrator, educator, and civil and women's rights activist Dorothy Irene Height, reflects this: "Without community service, we would not have a strong quality of life. It is important to the person who serves as well as the recipient. It's the way in which we ourselves grow and develop."
Sandra's parents raised her to give. "We didn't always have a lot—our family struggled—but we always found a way to give. Whether through church or an organization, you gave of your time, of yourself."
In Detroit, Sandra was part of Junior Achievement, which would be among the first programs she volunteered with in Grand Rapids. She became involved with Grand Rapids Jaycees, was a mentor reader for Alexander Elementary School, coached youth cheerleading for Kentwood Rocket Football league, and participated in several committees and other volunteer opportunities.
Sandra spent 15 years in banking and while at Chase Bank was first exposed to Women's Resource Center, becoming involved through collecting items for the organization's Working Women's Clothing Closet.
After leaving banking, Sandra spent time at home with her children. As she considered going back to work, a former client mentioned an opportunity at Mel Trotter Ministries. She joined as a donor officer, and quickly drew on her banking experience to help the team streamline and improve donor and volunteer relations. Within a year she was offered and accepted the Chief Marketing and Development Officer role, beginning her nonprofit work. She next worked with Inner City Christian Foundation, as Vice President of Advancement.
Sandra joined Women's Resource Center last March, as Chief Executive Officer. It's where she's supposed to be. "I still have the same level of excitement and enthusiasm as when I accepted this position."
She loves the passion and drive of the women there. "Most recognize there are many challenges women encounter in the workforce, whether entry level or management. Very few companies create an atmosphere where both men and women can thrive." Staff and our volunteer mentors are committed to serving. There are times of disappointment, and many challenges.
"In moments of disappointment or despair, there's always hope."
Sandra sees that hope in women coming out of the New Beginnings Pathway, training for work, earning certifications; in women tackling positions traditionally held by men.
Women's Resource Center and its partners advocate, equip and empower women from all walks of life to be successful in the workplace. They help them grow. Sandra loves the work.
"When women and moms are confident, families are strengthened. Meaningful employment should be available to everyone—not just men. Every woman is who we're standing in the gap for."
Women's Resource Center serves over 600 women yearly and hopes to expand that. In 2018, it celebrates 45 years.
"To think our founders were pioneers, groundbreakers ... We were one of the first such organizations in the U.S."
Sandra wants all women to have equal advancement opportunities—training, development, mentorship—with good pay and in a harassment-free environment. Women leaving jail or prison must also receive help to navigate more smoothly into the community, be with their children, fight addictions and enter the workforce.
Companies need diverse and respectful workplaces, to be successful. "I always tried to have diverse teams. There's richness in the experience of others; in the creativity and ideas coming out that take shape when you have a diverse team, and this must be intentional."
Sandra stays connected to her community—something engrained by her parents. She thought about something she shared when delivering the baccalaureate speech during her daughter's Hope College commencement.
"Our parents protected us from a lot. If the lights were out? 'Oh, it's those darned trees!' But even during times of struggle, if a neighbor or friend had a need our parents had us pack a bag or box to help, whether food or clothing. 'But that's the good stuff!' we'd say, packing up something important to us."
The lesson Sandra shared with the graduates: "You never give away what you don't want. You give of your best; it's the right thing to do."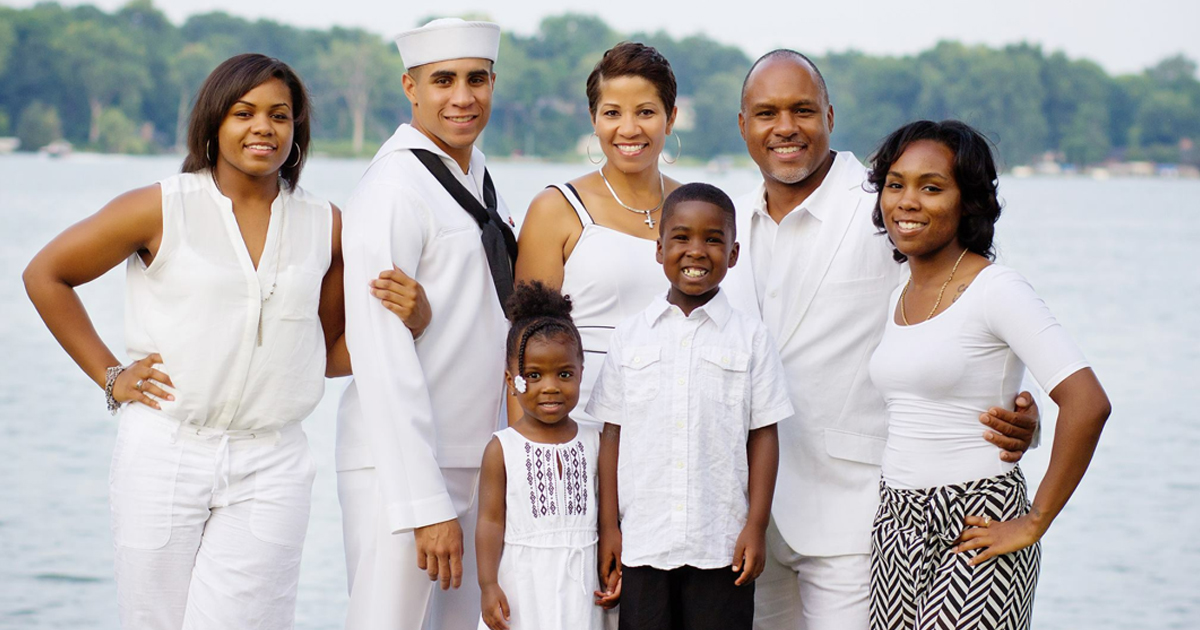 Photo Courtesy of Sandra Gaddy.
She instills this in her children. Even in hard times, you try to give the best to those in need. It's important. People have different motives for why they give.
"When you give, give without judgment. You don't know someone else's situation."
Written by Amy L Charles, Editorial Director for West Michigan Woman.
Photos © Kelly Braman Photography / Hair by Josephine M. White, JoJo's House of Beauty, Inc. / Makeup by Jerry Kragt, Aura Skincare & Cosmetics / Clothes by Gina's Boutique