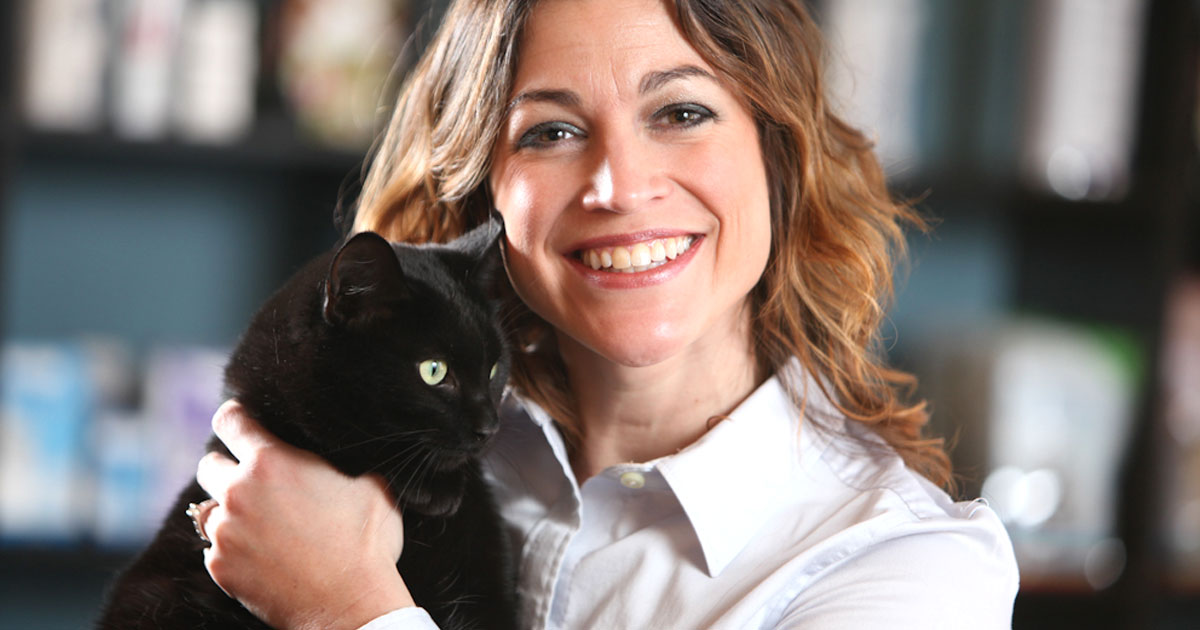 In four short years, Lynn Happel, DVM, has gone from opening the doors of her newly formed veterinary practice in 2011 to winning the Grand Rapids Chamber of Commerce's EPIC Award for Woman-Owned Business of the Year in June 2015.
Dr. Happel's career represents a level of accomplishment that is inspirational. West Michigan Woman Magazine caught up with her to learn a bit more about what it took to arrive where she is today—living and working in fabulous Eastown, doing what she loves each day, and growing a business that is becoming a mainstay of her community.
Happel graduated from Michigan State University's College of Veterinary Medicine in 2003, and spent eight years working in established veterinary practices before deciding to start her own clinic. Careful planning preceded every decision as she moved forward. She hired a consulting firm to help choose the most promising area for her clinic. She mapped out the locations of existing clinics, and identified a gap that she could fill. "I liked the eclectic feel of the [Eastown] neighborhood, and when we studied the need, it was a good fit." She looked for a location that would allow for ample client parking, with the ability to walk into the clinic without crossing busy streets. She eventually found her ideal location at 1350 Lake Drive SE, and moved forward with what would become Eastown Veterinary Clinic.
"The path to starting and running your own business is not a straight line—there will be bumps," Happel said. One of her most daunting bumps was financing. "It would have been easier to buy an existing practice, but the demographics didn't play out." Instead of doing what was easier, Happel stuck to her plan, even though it meant about 18 months of negotiations to secure financing for her proposed project. "It was tumultuous, but I had to look at the big picture," she said.
Once construction was underway, Happel began the marketing process. She began by developing the look of her brand, working with Deksia, a Grand Rapids brand strategy, marketing, and advertising agency, to create a distinctive feel for her business. From a logo and color scheme to business cards and letterhead, the matter of establishing her personal brand identity was a priority. From communications to the look of the facility, Happel wanted the feel to be clean, fun, hip, intelligent, and high-quality. "That's what I bring to the table." Her brand needed to reflect that.
Even before construction was finished, Happel had a sign out on the property and was using social media channels to make connections and build relationships with potential clients and potential employees. As she hired staff, Happel chose people with the right technical skills and an upbeat attitude. Training staff to maintain her brand doesn't happen by accident. "We have a mission statement. We have protocols, and we define the office behavior we expect, when it comes to greeting clients and other interactions." For herself and her staff, Happel seeks to create an environment where people enjoy coming to work. It's evident in the landscaping, interior décor, atmosphere amongst the staff, and the staff's interactions with clients. Less like a clinic and more like a cool coffee shop, the setting is warm and inviting.




Since opening, Happel's staff has grown from four (including herself) to 17. Happel has continued to grow professionally, and find a balance in designating certain staff members as managers of different aspects of the business. "I've realized I cannot do everything." But she has big goals for herself, among them achieving board certification in veterinary dentistry, and raising clients' awareness of the connection between a pet's dental health and overall health. She's training to meet the next generation of pet owners, taking time to attend workshops on marketing to millenials. The clinic has an impressive social media presence. "It's the way our society is right now—I need to be there in order to reach our clients. It helps personalize us, and allows us to be a resource—to continue to help clients beyond the few times a year they might come for a visit."
Connecting to her community has also been an important part of Happel's business model. She lives and works Eastown, and enjoys visiting local restaurants and stores with her family. (Happel's a big fan of the "shop local" movement.) You're likely to see her participating in community runs, and at the gym. She and her staff have participated in community service projects, and she's a board member of the Eastown Business Association and a member of the marketing subcommittee, a board member of the Uptown Business Improvement District board, and chair of the State Board of Veterinarian Medicine. "If my community is strong, I'm strong, and my business is strong."
For those considering starting their own business, Happel has a few pieces of advice:
Don't expect the path to be smooth—be ready to take on challenges and move forward. Once you've gathered all of your information, you've just got to jump. Learn from the challenges. You will never be able to be complacent.
Have a support team. An accountant, lawyer, and banker can provide a nice wealth of information from which to make decisions—and have personal support, too.
Be sure to schedule time for self-care. Whether it's exercise, meditation, or something else, you'll need to find time to quiet your mind.
For more information, visit www.eastownvet.com.
Written by Jennifer Reynolds, staff writer for West Michigan Woman.