PLAYING CATCH-UP
If you haven't saved enough for retirement, you've still got time.
Longer lives mean longer retirements—and for women especially, who are expected to live five years longer than their male counterparts, this fact can pose a retirement dilemma. You see, according to Bloomberg.com, women, on average, find themselves more than $268,000 short of what they'll need to retire comfortably at age 65. Men aren't immune either. They're $212,000 off track.
What this means is that a woman preparing for retirement needs to set aside $126 for every $100 
a man sets aside—a 26 percent gender gap. With 53 percent of women planning to retire after age 65 or not at all, this issue becomes all the more important. And there are many reasons why women tend to fall short when it comes to saving for the later part of their lives. Along with facing the possibility of lower wages compared to their male co-workers, many spend time away from the workplace during their careers to raise children or provide caregiving assistance to family members.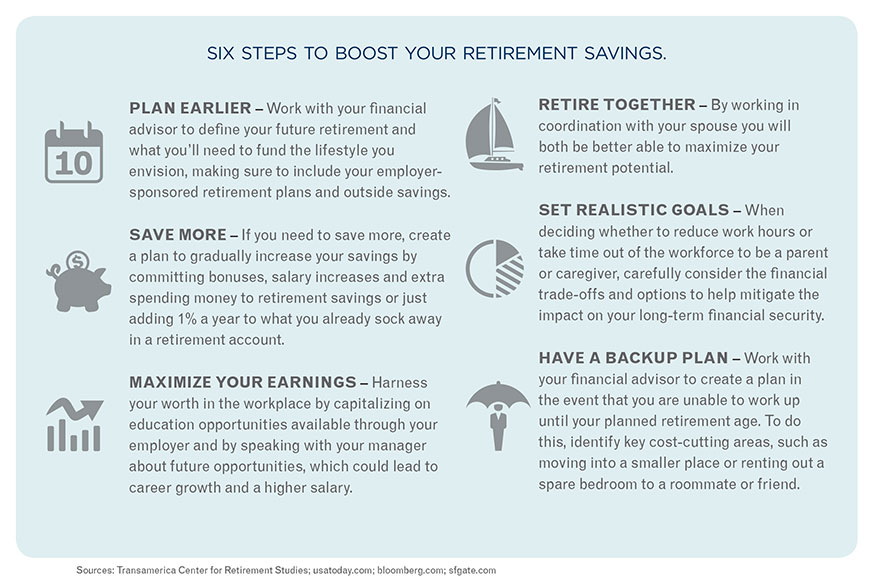 So, what can you do? Women needing to make up for time spent out of the workplace can continue to work in retirement, either full time or part time. And while working longer and delaying retirement can be an important opportunity to bridge a savings gap, simply not retiring isn't exactly a sustainable retirement strategy.
The good news: It appears that women are better savers and participate in more workplace-savings programs than their male colleagues. And women are just as likely as men to invest in stocks, with 73 percent of their savings invested in equities. They're also more likely to tap into investment vehicles like target-date funds, which adjust portfolios automatically as a person nears retirement age. Although generally higher wages give men an initial advantage, women tend to be more disciplined savers through the course of their careers. This slow and steady approach, coupled with the power of compounding, can help make up for gaps created by devoting time and energy caring for children or family members.
Despite facing some obstacles, it's possible to offset these issues with a little planning and patience, some tips for doing so are included below. By saving diligently and working closely with a knowledgeable financial advisor, you and your loved ones will be better prepared to live comfortably in retirement.
Sources: Transamerica Center for Retirement Studies; usatoday.com; bloomberg.com; sfgate.com
Article provided by Melissa Stewart, CFP®, AIF®, Financial Advisor at Blueway Financial Partners of Raymond James.
Disclosure: The information contained herein has been obtained from sources considered reliable, but we do not guarantee that the foregoing material is accurate or complete. Raymond James is not affiliated with any other entity listed herein. Certified Financial Planner Board of Standards Inc. owns the certification marks CFP®, Certified Financial Planner™ and CFP® in the U.S., which it awards to individuals who successfully complete CFP Board's initial and ongoing certification requirements. Raymond James & Associates, Inc., member New York Stock Exchange/SIPC. 2060 East Paris Ave SE, Grand Rapids, MI, 49546. Phone: 616-974-3370