Dessert tables have been quite the rage at parties for several years now—and there are no signs that this trend is slowing down. From showers to birthday parties, weddings, and the Superbowl, a dessert table could be a functional focal point that effectively conveys any theme. And although dessert-specific tables are the most popular, don't think that's the only foods that can be included. I've seen tables with veggies or cocktails that are set up just as beautifully! So I use the phrase "dessert table" loosely!
For anyone who has tried to put together their own dessert table, they'll know it's not necessarily as easy as it looks! However, there are a few tricks and tips I've picked up (mostly through trial and error!) to make it a bit easier…
Plan ahead.
This sounds like a no-brainer, particularly when you're planning an entire party, but a little bit of extra pre-planning specific to your table layout can go a long way. Of course, deciding what foods and drinks to include is a big part of the initial planning, but you'll also want to determine what serving pieces those foods will be put on.
For the Olivia the Pig dessert table, I pre-planned the containers, foods and drinks all in advance. And if you're hosting the party, set the pieces out a few days early so you can see how they fill up the table.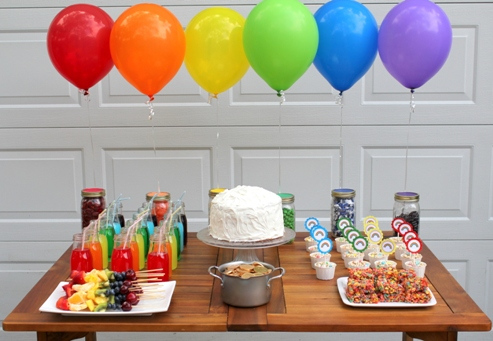 Draw it out.
Once you've determined what foods and drinks you'll be serving, it can be helpful to sketch the table layout on paper. Amazing drawing skills are not required for this step! Even with just squares and circles, the sketch can clue you in on how your plates and stands and glasses might all fit on a table. When I see everything sketched out, I often decide to add or eliminate some of my original food ideas because a table can look too crowded or there are noticeable "holes." The final product may not look exactly like your sketch, but this step is great for planning!
I definitely sketched out the Rainbow dessert table for our block party beforehand and it really helped me. During the sketch process, I realized something short would work well in front of the cake and in the end, I loved the "pot of gold" addition.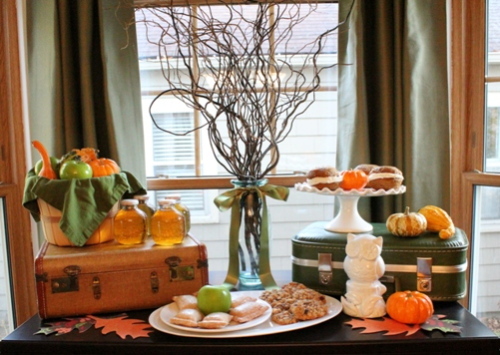 Create some symmetry/balance.
Not all dessert tables are perfectly symmetrical by any means (in fact, a perfectly symmetrical table might be pretty boring), but thinking in terms of symmetry and balance on your table can definitely help you lay everything out in an eye pleasing manner. I like to start in the center of the table and use a cake or arrangement as the focal point. From there, I try to keep somewhat of a balance in the number and size of items on each side of the table. This keeps the table looking thought out and cohesive.
On the Fall dessert table, the sides are not mirror images of each other, but you can see the similarities of items on each side that balance each other out—the basket with pumpkins and gourds on one side and the ruffle cake stand on the other are similar in shape and size. The gourds on the right balance out the mini apple juice bottles on the left, and even the vintage suitcases work as very similar pieces without being identical.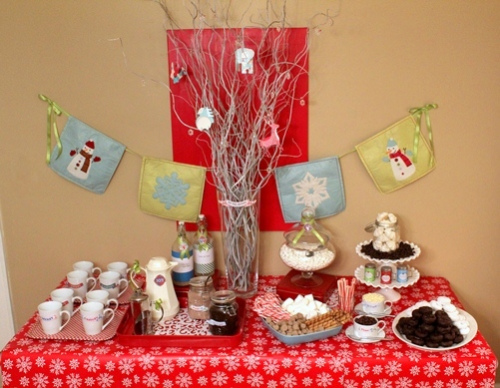 Add height.
Adding height to any dessert table creates so much visual interest and can bring the table up to a guest's sight line, where all of your hard work is much more likely to be noticed! A fabric backdrop, canvas, or streamers from the ceiling are just a few ways to bring the entire tablescape up off the table. Keeping consistent colors, theme and style as the rest of the table is important and you want the backdrop and main table to compliment, and not compete, with each other.
The Hot Chocolate & Coffee Bar was not nearly as interesting before the banner, curly willow & ornaments and red canvas were added. The lower banner helped tie the taller elements with the table elements so they felt cohesive and not like two separate pieces.
Dessert tables can be a bit tricky to put together at first, but with some pre-planning, they can come together so well and really create a great focal point at a party!
Written by: Rebecca Lemon has thoroughly hopped on the entertaining band wagon and now, she sees inspiration for party themes in everything—movies, clothes, jewelry, and even hockey games. She shares her home with three cats and her husband, Mr. Lemon. Don't call her a crazy cat lady. It may be true, but it's not nice to call people crazy, at least not to their face. Click here to read her blog, This Nest Is Best.