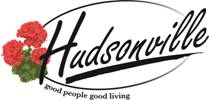 Make Monday your day to shop in Hudsonville. Chamber of Commerce businesses are working together to offer residents and visitors special deals every Monday beginning February 6.
"The businesses have put together an excellent package of deals that I'm confident will be of interest to shoppers," says Michelle Fare, executive director of the Hudsonville Area Chamber of Commerce.

Money Saving Mondays offer discounts at Chamber businesses like Community West Credit Union, Life Family Chiropractic Centres, Farmer's Co-Op, and more. For a complete list of participating businesses, visit the Hudsonville Chamber website.