#DISCOVERADA has become a call to action for West Michigan residents to visit nearby Ada and enjoy all their redeveloped village has to offer. Thoughtfully designed and located buildings house a wide variety of shops, restaurants, and businesses in a layout that encourages a pedestrian approach to experiencing it all.
In walking less than a mile, you can visit a local grocer, brew pub, florist, retail shops (offering everything from clothing to bicycles), a variety of delicious eateries and much more.
In the center of it all you'll find Beyond by Bill & Paul's, a delightfully different clothing and accessories retailer. Inspired by those who love spending time outdoors, this shop is full of items for the whole family—but it's not simply your traditional outdoor store. The brands and styles within Beyond are perfectly suited for relaxing in an outdoor-inspired, leisure-focused frame of mind, rather than gearing up for more active pursuits. Within Beyond, you'll find clothes and accessories you'll want to wear and use after a day on the trails and slopes.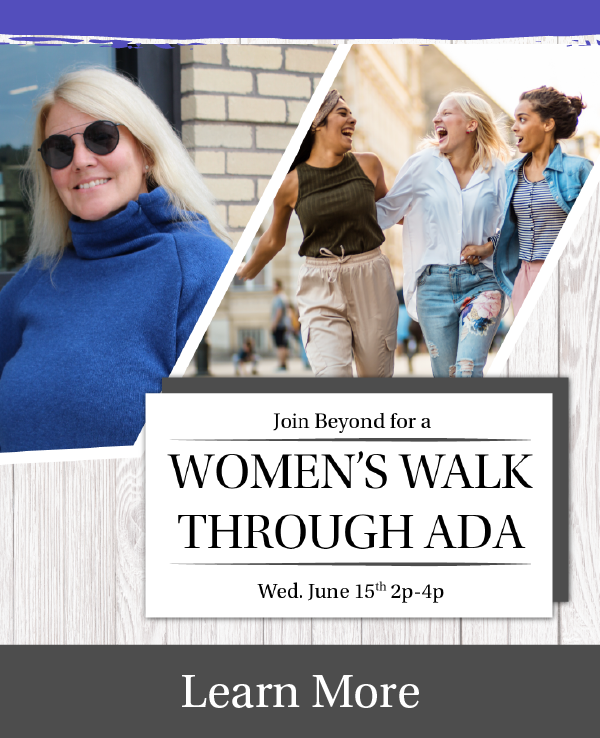 Situated on the Thornapple River, with miles of local trails and a handful of beautiful parks within a short distance of the village, Ada and Beyond truly couldn't be a better fit. With their roots in outdoor recreation, Beyond is passionate about sharing all that Ada has to offer, including its vast network of beautiful and easily accessible trails for walking, hiking and biking. There's no better place to explore a scenic trail and wander a bustling village for refreshments and shopping.
On Wednesday, June 15 from 2 - 4 p.m., Beyond is offering a unique opportunity to explore the village on foot and enjoy good company: A Women's Walk Through Ada. The event will kick off at Beyond with a short presentation on keeping your feet happy when walking by Jill Jacobson, manager of Beyond. From there, she'll introduce attendees to the wonderful network of trails throughout Ada and lead a 45-minute walk from Beyond. At the walk's conclusion, attendees could enjoy complimentary beverages at Beyond.
For more information or to express interest in attending, please visit Beyond's Facebook page. They look forward to helping you #DISCOVERADA!
Courtesy of Bill & Paul's Sporthaus.