Though the world is still full of uncertainty, millions of tulips have been planted in Holland and will burst forth this coming spring during Tulip Time, a well-loved tradition for over 90 years.
The festival, set to take place from May 1 – 9, 2021, will continue to follow the recommendations and directives of the CDC, the State of Michigan and the local health department. Though planning for the celebration is fluid, organizers have shared initial planned events, including:
The Tulip Time Artisan Market at the outdoor grounds of Beechwood Church on Ottawa Beach Road (previously held at Centennial Park).
Tulip Time Run, in-person or virtual.
A new Tulip Immersion Garden at Dunton Park on Holland's north side.
Dutch Marktplaats, including the new Dutch Dance Costume Exhibit, at Holland Civic Center Place.
In anticipation of what's sure to be a lively and much-welcomed celebration of a new season and return on an honored tradition, West Michigan Woman sat down with Aron Lowe, artist and winner of the 2020 Tulip Time Festival Artwork Competition. Her digital artwork, "Dutch Dance," was set to be the centerpiece of the 2020 Tulip Time posters, programs and memorabilia. Now, moving into the 2021 festival, Lowe was once again enlisted to create the companion artwork piece for the celebration. "Hear Ye, Hear Ye, Spring is Here" is now featured on exciting new merchandise, including notecards, ornaments, and coffee mugs online.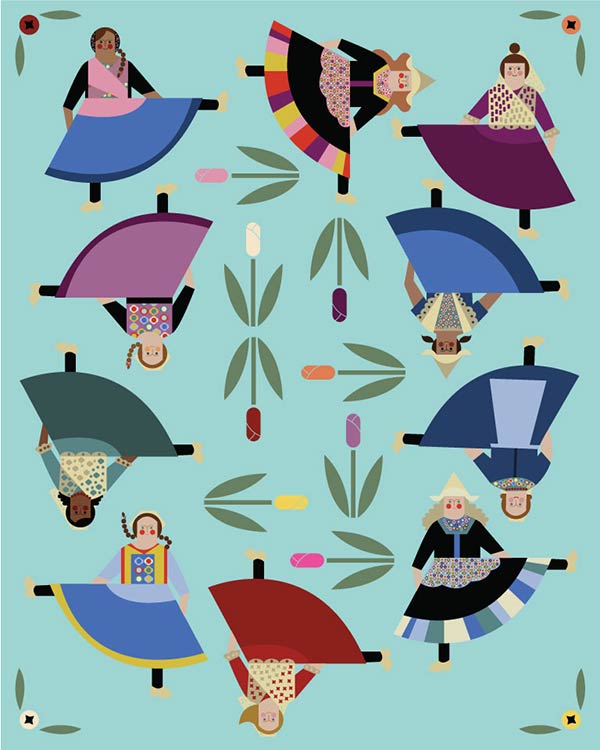 Why is creating the artwork in celebration of Tulip Time special to you?
The Tulip Time Festival has been a constant in my life since I was little and is so well known nationally and beyond, so it's a big deal that they like my graphic work and are using it in their promotions.
How has the pandemic impacted your approach to your art?
At the beginning of the pandemic, with so much being cancelled and the extent of the economic downturn, I felt unsure about whether I should spend any time on making artwork at all. Would there be any fairs again to sell at? Would anyone be buying artwork anytime soon? So when Tulip Time contacted me about working on this new piece for them, it was a welcome project and a glimmer of hope that things might be able to look more like normal by spring. I was excited to work on something new and to get another chance at participating in some of the special events that the poster artist gets to be part of including a parade and the arts and crafts fair.
What was the inspiration for your new companion piece and how does it tie into the original artwork you created earlier in 2020?
I was inspired by vintage 40s and 50s posters and advertisements for travel etc., as well as the theme of the Tulip Time parades. I spent some time looking through Tulip Time's photo archives for inspiration. I repeated some of the colors, as well as the tulips from the 2020 design and worked within the same shape-based design style.
What inspiration do you hope your Tulip Time artwork offers those who see it?
I designed the piece as a celebration of spring with the bright sunny colors I used, the blooming and fanfare, the happy dog on a bike (inspired by some cute pictures of dogs in Dutch costumes from the Tulip Time archives). I hope that to the people who see it, it's a sunny reminder of spring after a long dark and cold winter.
Organizers say they will continue to monitor national and local directives and adapt plans accordingly. Please visit the Tulip Time website and Facebook page for more announcements in the coming months.
Written by Sarah Suydam, Managing Editor for West Michigan Woman.
Photos courtesy of Aron Lowe, courtesy of Tulip Time.