Kellie Kidwell, the librarian at Jamestown Lower Elementary within the Hudsonville Public School system, has been fond of libraries as long as she can remember. When Kidwell was growing up, her mother would read her bedtime stories every single night—setting her up for success with reading at school.
Perhaps even more important, it deepened their bond and created lifelong connections with stories and characters.
Since March 17, 2020, Kidwell has been filming videos of her reading children's books aloud and uploading them to YouTube for all to see—an important effort since their last day of in-person learning ended on March 13 because of the COVID-19 pandemic.
"I sent many of my students home with extra library books that day, but—like most others—planned on returning after a month," said Kidwell, whose building serves students in pre-kindergarten through second grade. "The reality of the threat of the pandemic started to set in pretty quickly though and I started to brainstorm ways that I could connect with students virtually."
Kidwell reflected on what had been done in the past to reach students at home.
"My principal had created video book read-alouds when we had a series of snow days last year that were really popular with our students," said Kidwell, noting one of her favorite parts of being an elementary school librarian is reading aloud to students. "I know my own kids enjoy watching and listening to books being read, so I thought I would give it a try."
Kidwell has been prerecording two to three videos per week and is planning to provide teachers at the school with links to a few new videos each week, to share in their Google Classrooms.
"So far, I've only been reading picture books," said Kidwell, adding that most books have been family favorites or requests from students. "Now, I will also start reading chapter books that second graders can listen to in installments."
Kidwell looks for books that will appeal to boys and girls and have an element of humor.
"I miss hearing their giggles!"
Though Kidwell's original focus was reaching her own students, she's thrilled that—because of friends sharing the video links on their own social media pages—other children can benefit from them.
"I had a really great librarian in middle school that was very encouraging and made it a priority to really get to know her students," said Kidwell. "I know that through reading, students can get absorbed into places and characters that will entertain them and grow their imaginations."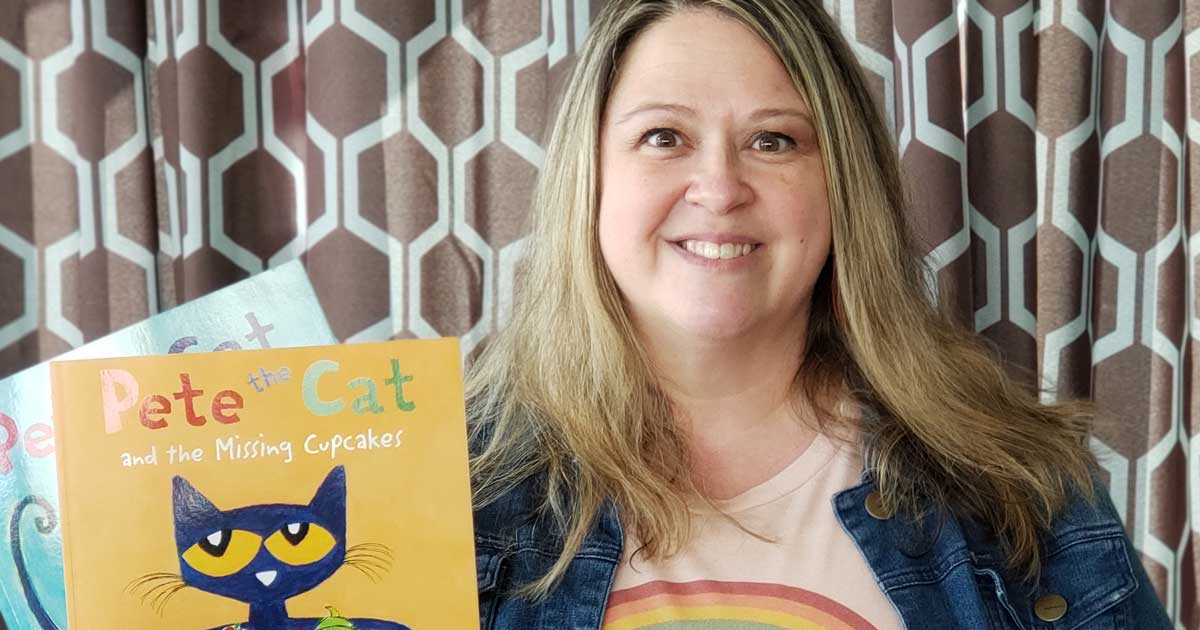 Kidwell has received positive feedback, both from grateful parents and her principal, MacKenzie Stefanich, who's proud of Kidwell and loves that she's found a way to share her love of books and reading with students when they can't be in the library.
Learning to read is one thing, but loving to read will help students be successful with their other classwork for the rest of their school careers.
"The students at my school are used to seeing me every single day," said Kidwell, who holds three jobs at the school: librarian, noon hour aide and office clerk. "I'm a familiar face and I have made great connections with them. I hope that being able to see me through the videos will be comforting and reassuring to them."
With everything "normal" about school having been ripped away, Kidwell still thinks one of the most valuable things for the age group she works with is relationship building.
"I make it my goal every school year that I will know all of the student's names by mid-October and so far, I've been successful! Kids desire to be seen and known just as much as adults do—maybe more. My hope is that when they see my face and hear my voice on the videos, they will feel calm and connected as if they were in the library with me."
When thinking about the future, Kidwell is excited to continue being the librarian at Jamestown Lower Elementary—what she considers her calling and dream job—for many years to come.
To share the love of reading with your children and students, view Kidwell's videos.
Written by Sarah Suydam, Staff Writer for West Michigan Woman.
Photos courtesy of Kellie Kidwell.