For many small businesses in West Michigan, the main concern is living to see the other side of the pandemic—with relief from the Payroll Protection Program being at the forefront. West Michigan Woman spoke with Jill K. Miller, Attorney at Hilger Hammond, to learn more about the latest in relief for small businesses and what you need to know.
What options do small businesses have for relief at the moment?
Right now, we are waiting for Congress to approve additional funds to provide relief for small businesses. Until it ran out of funds, the Paycheck Protection Program was a very attractive relief program for small businesses with less than 500 employees.
What is the Paycheck Protection Program?
The Paycheck Protection Program, PPP, was designed to provide funding for small businesses to keep their workers on the payroll; $349 billion was initially authorized by Congress for this program. The program ran dry last Thursday before some banks even started taking applications.
How are loans administered?
Loans are administered by banks but guaranteed by the Small Business Association. Other lending institutions such as PayPal and Intuit have been approved as well. Most banks were only taking applications from existing clients.
Is there an aspect of forgiveness with these loans?
One of the most attractive features of this program is that loan amounts used during the first eight weeks for payroll, mortgage interest, rent and utilities are eligible for forgiveness. Forgiveness may be reduced if full-time headcount declines, compensation is reduced more than 25% for employees making less than $100K, or more than 25% of proceeds are used for nonpayroll expenses. Don't worry if you have already laid off workers, as you have until June 30, 2020, to rehire them—although there are nuisances regarding rehiring employees that may affect forgiveness.
What are your recommendations specifically related to this?
If you were approved for a PPP loan, open a new account, if possible, and deposit the proceeds of the loan in the new account. Keep specific records of what you spend the loan proceeds on. You will need these records when you apply for forgiveness. How the forgiveness piece will work is not crystal clear at this moment, but you will have to apply to your bank for forgiveness.
Who are good candidates for these loans?
Generally, this program makes a lot of sense for businesses who are essential right now or where employees can work at home, but makes less sense for companies that are shut down right now.
What are some additional things to consider when it comes to these specific programs and loans?
The PPP loan is still a great loan with favorable terms to bridge the gap during this pandemic and to keep your business afloat. Do not focus too much on the forgiveness piece.
It's been reported that all funds specifically allotted to be distributed to small businesses have already been distributed. What are your thoughts on this and do you think more funding will be coming in the future?
On Tuesday, April 21, the Senate approved a new package including $310 billion for the PPP, with $250 billion refilling the program and $60 billion set aside specifically for small and midsized banks, community institutions, and credit unions. The House could potentially approve the bill as early as Thursday, April 23.
Should small businesses still be applying right now?
Businesses who have not already applied will have to wait until new funding is approved and banks open up applications again.
What's on your radar currently as it relates to small business relief?
Some not-so-small businesses received large loans, leading some businesses to allege that banks approved loans based more on relationships than need. Shake Shack recently returned its $10 Million PPP loan.
Where should people reach out to or visit for more information?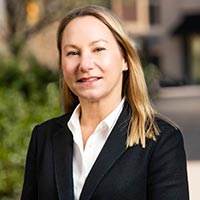 To contact Jill K. Miller, visit Hilger Hammond.
Written by Sarah Suydam, Staff Writer for West Michigan Woman.
NOTE: Information accurate at time of publishing, April 22, 2020.