"How lucky we are to have the opportunity to do something and give back."
Eva Aguirre Cooper has a strong and extensive background in strengthening the community she calls home. It's no surprise that she's being honored by the Girls Choral Academy (GCA) at its annual benefit this year.
Eva, a Latina woman who grew up in Detroit, didn't see many role models who looked like her when she was younger—a factor that motivates her to stay involved and have as expansive a reach as she can today.
"I wish I had an organization like GCA in my life when I was younger. When I was coming to their early events, I was seeing myself in so many of the young Latina girls there," said Eva.
"To be surrounded by mentors and people who are empowering you to use your voice and be yourself—especially at an age that can be very awkward—is incredible."
Having worked in broadcasting for 35 years, Eva has spent time with her hands dipped into the technical and production aspects for organizations such as NPR, PBS and WGVU. She currently serves as the Community Affairs Director at WOOD TV8, WOTV and WXSP; experiences she's always excited to share with youth.
"I really like talking to middle school and high school kids whenever I get a chance—especially in the Latina community. I challenge them and say 'Now, who is going to take my job one day? Who is going to get out there and do things?'"
Eva notes the importance of the GCA's work in bringing together girls and providing a sense of belonging and worth—something she stresses is increasingly important.
Founded by Monique Salinas in 1997, the GCA provides a safe, loving, nurturing and challenging environment for girls ages 6 to 18 and is expanding and serving an increasing number of diverse young girls and women each day.
The GCA mission is to touch and enhance the lives of children through music and "give girls a voice." The organization offers weekly formal choral training, where girls learn the basics of good choral performance while also learning discipline, perseverance, self-esteem, commitment and cooperation as they blend into a harmonious unit.
"Eva has been deeply involved in many community organizations and her level of connection and caring has made a big impact on the lives of many," said Lori Tennenhouse, Executive and Artistic Director of the Girls Choral Academy. "She is a strong role model for girls and women everywhere. We are honored to be able to recognize her for the leadership she provides in our community."
Over the past 21 years, the GCA has served more than 2,500 girls in West Michigan—the impact of which Eva feels privileged to contribute.
"It's such an honor and I'm so humbled. Being recognized inspires me to do more and I hope I can continue to give back through an organization I've had the pleasure of watching and being apart of the last few years."
Eva finds thinking about a community without the arts unimaginable, noting we must become—and stay—involved to sustain the organizations that drive the creativity and development that enriches us all.
"The arts are part of our landscape and we need to value and invest in that part of our community which undoubtedly enhances our quality of life," said Eva.
The annual benefit—which provides vital funding to foster Girls Choral Academy programs—features dinner, drinks, and entertainment provided by Boogie Woogie Babies and the GCA.
Join the Girls Choral Academy's in celebrating its 21st season and honoring Eva Aguirre Cooper!

Let Their Voice Be Heard Benefit
Tuesday, November 13, 2018
5:30 p.m. to 8 p.m. Goei Center.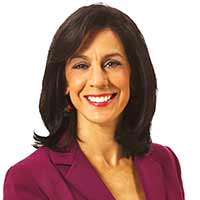 Eva Aguirre Cooper
Written by Sarah Suydam, Staff Writer for West Michigan Woman.