If you live near Grand Rapids and have never been to Picnic Pops at Cannonsburg Ski Area, you've probably at least heard of it on the radio, while in the check out lane at D&W, or from your great Aunt Sally.
If you've heard of it but don't really understand what it is, Picnic Pops is—in a nutshell—a four-week outdoor concert series featuring different artists, with all of the music accompanied by the Grand Rapids Symphony. Sound boring? Wait! Don't hit the snooze button just yet.
There's a reason 25,000 fans flock here each summer. People come because it's affordable, it's social, and it's relaxing. No matter if you're a symphony-goer or not, if you like live music and being outdoors—and how many chances do you have in Michigan for that?—I promise you'll dig it.
I live almost within walking distance of the Cannonsburg Ski Area. And despite being able to hear the Picnic Pops from my house, I still like to go at least once a year. What I find interesting is that no matter who I go with, I have an equally great time. I've gone with groups of girlfriends, my parents, and with a group of families and kids. What I find most cool is the wide range of ages, from babies to the elderly, together and all vying for a good time.
Whether you're a seasoned Picnic Popper or brand-new, these tips could help maximize your enjoyment of one of GR's best summer activities.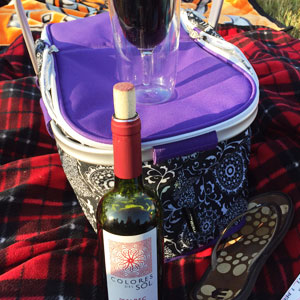 1. Plan ahead.
Please, take this tip with a grain of salt. If you're a "planner" you'll really want to plan ahead, because once you get there and see all that some people put into their seating, food, and drinks, you'll be disappointed in yourself. Not a planner? You don't really need to be! But at least think ahead, so you don't become irritable when you find yourself without an adult beverage after sitting in traffic for a half hour.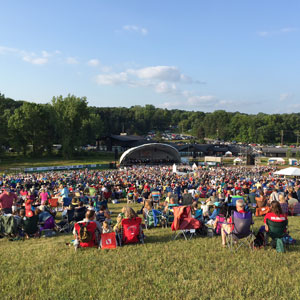 2. Buy tickets.
There are lots of options, which may depend upon how and where you want to sit, how large a group you have, and how often you plan to go. The four basic options: Buy them online, buy them at the Grand Rapids Symphony ticket office downtown or call them (best rates), buy them from any Ticketmaster outlet, or buy them at the door. Refer to the Symphony website for complete details. Don't let the options overwhelm you. If you're a first-timer, my advice is to show up and buy them at the door. The Symphony does a great job with staffing, and I've never had to wait long to purchase tickets.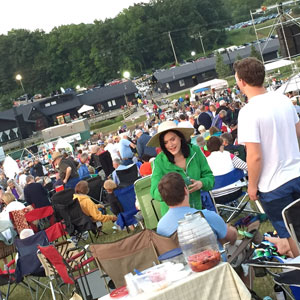 3. Know where to sit.
This advice is pretty easy. My observation: The older, more serious-about-the-music crowd stakes out the territory closest to the stage. There are sections for reserved tables and seating. As you head up the hill, things become a bit more casual as the audience spaces out and gets younger. If you want to be close to the stage, get there extra-early. If you have kids who like to run around, don't come too early: You'll end up near the top anyway, which is a great spot for the kids to play without annoying other concert-goers. If you're coming with a group, it's best to plan at least a general meeting spot ahead of time. (Cell service can be a bit spotty.) Grounds open at 5:45 p.m.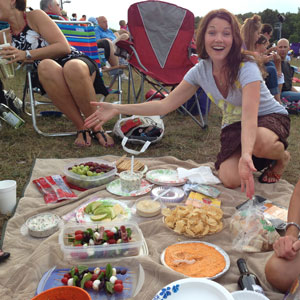 4. Know what to bring.
Here's where you'll see a variety of planning and setups. Some people really go all-out, bringing tables, chairs, beautiful spreads of food, and fancy drinks. Others bring a blanket and a bottle of wine. Certainly, yummy food and drinks can add to the overall experience—just remember that whatever you bring, you have to carry in and out and possibly up and down a hill. There is some food available for purchase. And I highly recommend bringing a chair. The low-sitting beach chairs are perfect, as they are lighter-weight and your neighbors behind you will appreciate a better view.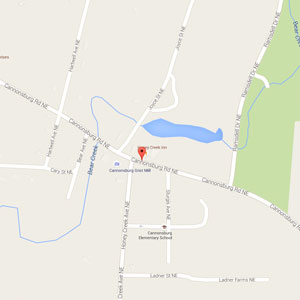 5. Know how to get there.
While the venue is an easy shot down Cannonsburg Road, traffic does back up and it could take a while to get in and out. The police do a great job directing traffic, but there are secrets to avoiding at least some of it. One option: Head north past Cannonsburg Road to Belding Road, go east to Myers Lake Road and then go south, which dead ends right at the hill. Another alternative route: If coming from the south, take Fulton Street to Grand River, then up Honey Creek Avenue to Cannonsburg. An advantage to this route is that you'll pass through the little town of Cannonsburg, where you could enjoy a pre-concert meal at the quaint Honey Creek Inn, pick up delicious smoked ribs and other picnic treats from The Grist Mill, or pop into The Bottle Shop for a nice wine to bring with you.
Check out Grand Rapids Pops for more information.
Written by Jill Carroll, marketing manager for West Michigan Woman and mom of three from Cannonsburg, Michigan.
Save
Save