A year and a half has gone by since my decision to venture out on my own and build a new life. Throughout the journey, I have learned so much about who I am on the inside, and who I desire to be for my son, family, friends, and my career. Naturally, this inward reflection prompted me to look at my outward appearance and uncover what this new woman should look like.
My newfound style would showcase what I discovered about myself once I chiseled away the exterior I had lived with as a married woman. I wasn't sure what I would end up with, but I wanted to make sure it was the real me: the artist, the career woman, and the simple Midwestern girl who wanted a nice, uncomplicated Christian life.
I attended church one Sunday, and the message was about relationships and projecting the right image to attract the right people in life. I realized I was hanging onto a few things in my closet that were not appropriate for someone my age or position in life as a mother. This sermon hit home, and I was motivated to transform my outside appearance to reflect what was changing inside.
I wanted to look:
Authentic to my values and lifestyle.

Like a mother my son would be proud of.

More natural and comfortable in my own skin.

Healthy and happy.

Age appropriate.

Professional and classy.
Into my closet I dove! It was amazing the stuff I pulled out and threw into a pile, and it really told a lot about the metamorphosis I had undergone. What underlying message was I uncovering as I rummaged through the sequins and short dresses? Who was I trying to impress all those years? Who was I trying to be that I really wasn't? I stood back and reflected on the pile of clothing that represented someone I no longer recognized. It was a lot to take in, and I was finally ready to let go of my former self.
Now, I live a much simpler lifestyle. I am back to my natural honey-brunette hair and wear jeans on the weekends. I no longer care what others think of me. (Well, not as much as I used to.) I want people in my life who respect and love me for who I really am. My style also reflects my budget ... which is another topic all together.
What is in your closet?
Be strong and live well.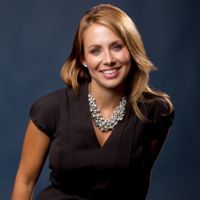 Written by: Jessica Holland is a guest blogger for West Michigan Woman. This is the fourth in her several-week series of blogs related to her firsthand experience with divorce and the lifestyle change that comes with it. Click here to read other blogs in her series, and check back weekly for her perspectives and advice!