I was late jumping on board with Pinterest. I did not need ONE more online account to manage and I didn't understand how this would be a useful tool. My first impression, from hearing others talk about it, was that it was a big time waster. At first, I thought a little bit like my friend Kelly did…"I just don't get it."
I finally jumped on board (and created my boards) because I needed to find out for myself what this was all about. And, I hate to miss out on something, so if my friends are doing it, then I will too.
So here I am, fifteen boards and 401 pins later writing about why you might consider Pinterest and how to use it effectively. Well, effectively according to the world of Jen.
But before I begin, let's look back. Years ago, before the age of Internet and social networking, if I wanted ideas and inspiration, I would buy magazines and tear out pages of fashion ideas, recipes and home improvement inspiration. Those pages would be shoved in a junk drawer, stuffed into a folder, or pinned on a bulletin board, only to be forgotten and tossed in the trash. The Internet is great for searching ideas, but it wasn't very easy for tracking. Oh sure, you could bookmark the page, but there was always a chance that page could be removed later and your inspiration for your bathroom remodel would be gone! (not that that's ever happened to me). Now, thanks to Pinterest, there is one place I can keep my ideas organized, safe, and accessible at home or on the go. See what Pinterest can do for you. Here are a few tips that have been valuable to me:
Set up your boards by category to make it easier to find later. For example my "Home Ideas & Inspiration" board has 106 pins. It's time for me to break it down to specific rooms.

All Boards need a title. You can use a generic title or let your personality show. I would like to thank my BFF for getting engaged so I could legitimately title a board "My Best Friend's Wedding."

When you see something you like pin it immediately! You might not be able to find exactly what you're looking for later.

Download the mobile app…you'll thank me (or curse me) later.

Turn off your social media notifications. Your friends will thank you for not clogging their news feed with everything you just pinned in the last six hours.

Speaking of time, give yourself a limit. My friend Heidi is an admitted Pinterest addict. To break this habit, schedule your time to pin or only give yourself so many minutes per day/week. My preferred time is Saturday mornings when I'm alone in my living room coffee in hand, laptop on my lap and HGTV on the tube.

My friend and former colleague Jill inspired this tip. DO SOMETHING! Don't just pin for the sake of pinning. You're pinning these ideas and photos for a reason, so take action. I've set a goal to make one new recipe a week that I found on Pinterest. Shockingly, I've found some great recipes that even The Teenager will eat.
If you have any tips or advice to get the most out of Pinterest, please leave your comments below.
Happy Pinning!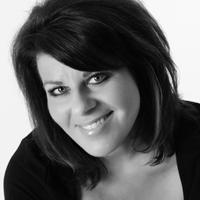 Written by: Jennifer Reeves is the director of sales and service for West Michigan Woman's publishing company, Serendipity Media. She is a customer-service guru, and she is known around the office for her electrifying personality and contagious laugh. When she isn't spreading cheer at Serendipity, she is relaxing at her home in Holland with her beloved daughter Mackenzie.