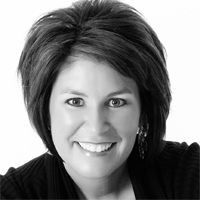 For most of my life, I've envied the girls who had straight hair. I'm guessing it's the same thing for those who have straight hair. They want it curly right?
A few months ago, my stylist suggested I consider a keratin treatment. She's sees the struggles I've faced with my hair having a life of its own. I don't have really curly hair, rather it has a colicky wave that comes out mostly when I'm active, hot, or really want to have a good day. Sound familiar?
A few months ago I tried my first treatment. Here are some things I've learned along the way:
Keratin treatments are

smoothing,

not straightening, treatments. After the treatment, you still flat iron you hair, but the keratin helps to lay down your hair and maintain your style for longer periods of time.
Go to a professional. There's a reason stylists have licenses. Be sure to pick a good one, and I would recommend Kelly Dailey at Bottega Salon. I just had my third treatment and had to change product lines after the second one. The company added formaldehyde (which is common in a lot of products), but it burned my scalp. I have extremely sensitive skin to start with and the slight change in their product offering made a substantial difference. Kelly knew exactly what to do and how to ensure that didn't happen again.
Be sure you have your schedule blocked out. Doing a keratin treatment takes time. It's worth it, but be sure to block out enough time to get everything done. You can certainly break it up into separate visits, but for me, I need to do it all at once. During my last visit, I got my hair cut, colored, and keratin treated and it took a total of four hours.
Are you wondering how much it costs? It ranges from $60 to $150. The cost varies based on what product line you go with. You can choose one that is lower cost, but you can't wash your hair for up to three days. For others, you can get it done and walk out the door. Pick the one that meets your needs at the price point that's right for you.
If you are considering a keratin treatment, here's the best reason to do it. I went on vacation for the first time this year and didn't have "vacation" hair. If you have hair like mine, you know exactly what I'm referring to. So, take a leap of faith and just do it.
Written by: Kasie Smith is West Michigan Woman magazine's publisher. She is a Michigan native. She was born in Traverse City, and now lives in Grand Rapids. She enjoys golfing, spending time in the sun, and watching romantic comedies with her very own leading men, her husband Jason and her twin boys.