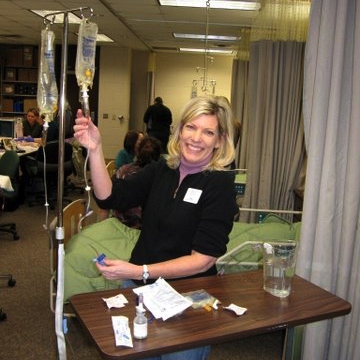 In 2006, when Beth Poe's youngest daughter started kindergarten full-time, she decided to go to school too, go back, that is. She enrolled in a nursing program at Kalamazoo Community College and picked up where she left off in 1986.
"I decided I wanted to finish what I started twenty years ago. It never left my mind to be a nurse," Beth says. "People always say life is short, but life is long, there's time to have more than one career. Some people do both at the same time, I'm doing mine back to back."
Like most women who go back to school for a career change or to further their education, Beth had some apprehensive about stepping into a technology-savvy classroom full of twenty-year olds. Being a student again was a complete lifestyle change for Beth. As a mother of four, twenty-four, nineteen, eleven and eight-years-old, she was pretty comfortable in her role as mom, director of the household, but when she threw her own schedule of classes into the mix, she had to make some adjustments.
"The hardest part was letting other people help me because I'm usually the one that calls the shots, I run the house, I make sure everybody is where they need to be and has what they need," she says.
Age was another unease in Beth's transition back to school. In her original nursing class, about a quarter of the students were in their late-thirties like her, but the thought of walking into a classroom with students similar in age to two of her own children was initially daunting.
"There's a handful that are my age, but we don't always get put in the same groups, so it's not like all the middle aged ladies move around together. I wondered if (the younger students) would like me, or if I would feel like I was everybody's mom," she says.
But for many women, going back to school is becoming a more common notion. According to the National Center for Educational Statistics, by 2019, there will be a 23 percent increase in people older than twenty-five-years-old enrolled in college programs. That's a 14 percent jump over the predicted increase of those younger than twenty-five-years-old who will be enrolled in college at that time.
Having the support of family and friends is essential to success for those who go back to school mid-life. Another mother in Beth's circle of friends went back to nursing school a year earlier. Her encouragement throughout Beth's studies has been a much needed, as has the support from her family.
"When I got my acceptance letter, everyone was saying, "We knew you could do it!" But I was scared...It was big for me to be able to believe in myself. The closer I get to graduating, the more I am able to see in myself what everybody has seen in me all along," Beth says.
There have been times along the journey to becoming a Registered Nurse that Beth has felt the gap in time between her college experiences. The separation between every day life and school life is much more apparent now than when she was living in a dorm. But every class she finishes is more empowering and helps her to see the end goal.
"Every semester feels like more of an investment. To quit would be throwing away an investment, not just of money, but in a lot of hard work," she says.
Beth has twenty days of clinical and one semester left before graduation in December 2012, not that she's counting.
Written by: Erika Fifelski was born and raised in West Michigan, and after a brief stint on the sunrise side, she's home and loving it. Erika enjoys cooking, sewing, vacuuming, and discovering new ways to live sustainably and support local businesses. Photo provided by Beth Poe who is shown in the skills lab learning to set up an IV piggyback.