When you look outside this time of year, do you get excited about bundling up to go exploring, or would you rather cuddle up with a good book by the fireplace, sipping on chai and giggling at the thought of crazy people outside in the snow? The truth is, ANYONE can learn to love the season they're experiencing in Michigan—it's just a matter of dressing appropriately for the weather, and knowing where to find the adventures!
Just one of the many winter season options in West Michigan is snowshoeing. The best part is anyone who can walk can snowshoe. It takes a tiny bit of coordination to walk in wide steps, but after a few minutes you'll find that it's an amazing workout: you can burn up to three times as many calories when you snowshoe compared to just straight-up walking on pavement.
Decent snowshoes could be purchased anywhere for less than $100, and the technology is leaps and bounds above the old wooden-style used by hunters and trappers of days gone by. Now we have lightweight aluminum efficiency going for us so that we can even RUN in our snowshoes, maneuvering easily over fallen logs and even climbing up steep hills with the metal cramp-ons built into the base of each snowshoe. We can have a fun walking workout in just a few inches of snow blazing our own trails where cross-country skiers wouldn't dare attempt, it's so much fun!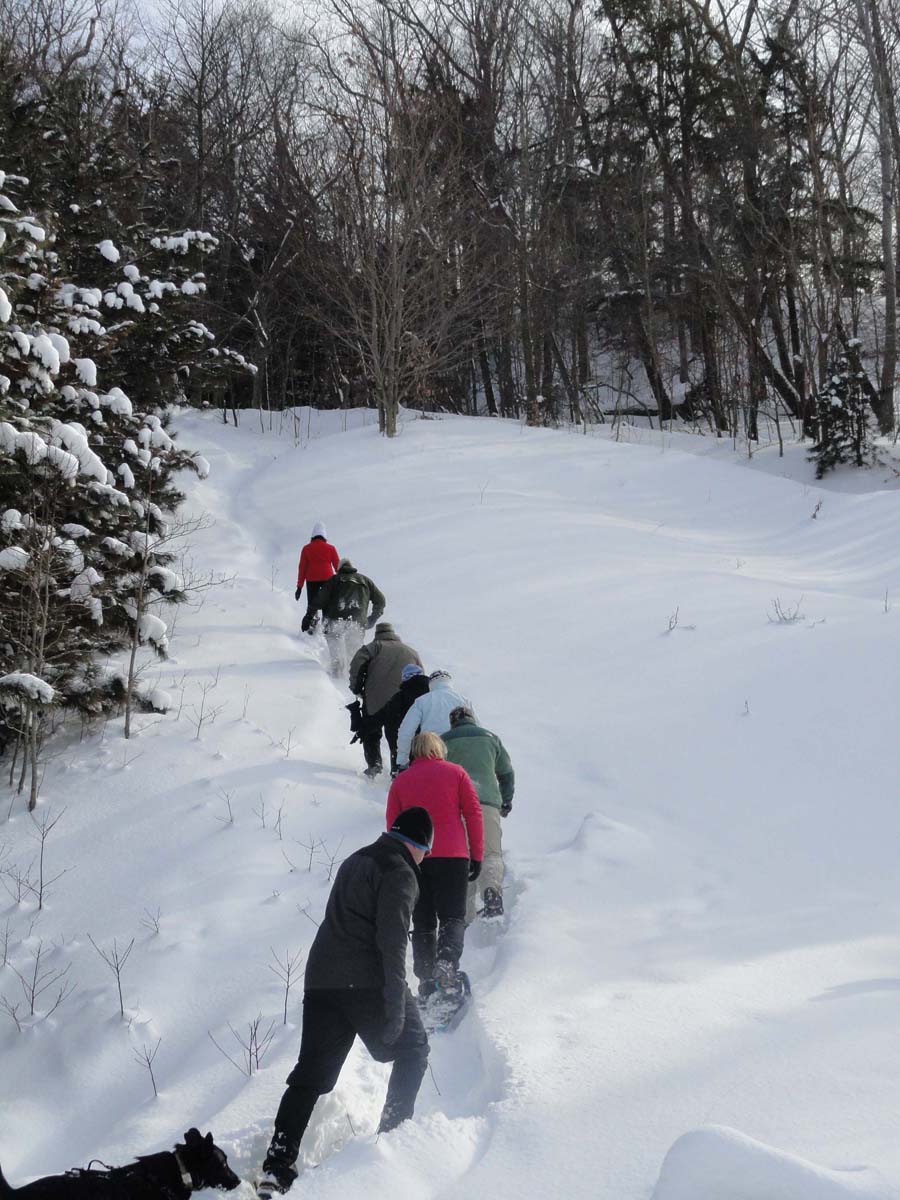 If you're a "try before you buy" kind of girl, give Bill & Paul's Sporthaus in Grand Rapids a call at 616-458-1684. They have almost thirty pairs of rental snowshoes of varying lengths and sizes, and they can help you determine what works best for you—longer snowshoes will keep you gliding high atop the deepest snow, where the shorter, lighter snowshoes will give you more efficiency to run on existing snow trails. At Bill & Paul's, you can pick the rentals up on Friday evening and return them on Sunday morning for just $17 per pair. That leaves plenty of time to explore several kinds of trail adventures during a weekend. Call ahead to be sure to reserve your pair early. If you live closer to Lake Michigan, there's snowshoe rental at Hemlock Crossing Park between Grand Haven and Holland. Call 616-786-4847 for more information.
It's always more fun to try a new activity with friends, so if you've never attempted to snowshoe, there is a great, free opportunity later this month. EcoTrek Fitness teamed up with the Michigan Department of Natural Resources' Fresh Air Fitness extravaganza, and is offering the Cabin Fever-Breaker Event at Yankee Springs Rec Area near Middleville from 1 p.m. to 3:30 p.m. on Saturday, January 26. Centrally-located and an hour or less from Grand Rapids, Kalamazoo, Lansing, and the lakeshore, groups will be carpooling from all over the state for this winter adventure, lead by several EcoTrek Fitness Series Leaders. We'll be covering different sections of the more than fifty-two hundred acres on snowshoes, cross country skis, and the simplest adventure yet, winter hiking! Details and RSVP information can be found online at http://EcoTrekFitness.com/yankee.shtml.
Want to strike out on your own instead? Get your light layers on and explore any of the many county parks available to us in our winter wonderland. It's easy to find one of thirty-seven Kent County Parks within the Grand Rapids area, and one of the best-developed park systems in our state is located right next door in Ottawa County, with more than sixty-seven parks and natural areas to explore closer to Lake Michigan.
Whichever route you choose, in a group or solo, there are many winter adventures waiting for you in Michigan. You live here, get outside and enjoy it!
Written by: Cari Draft is an award-winning personal fitness trainer who makes "house calls" in West Michigan. Cari also created the unique outdoor group workout company, EcoTrek Fitness, which now operates out of twelve locations in Michigan as well as a location in West Virginia. She's a popular social media fitness guru on Facebook and Twitter, and shares many topics on her blog. Check out more info on Cari in the February edition of West Michigan Woman. Subscribe today!