Angela Topp experienced one of those proverbial "fork in the road" moments in her 20s that shaped the eco-retail landscape of West Michigan, more specifically Wealthy Street in Grand Rapids. "Something happened to me and I started to rethink my entire future. I had to change my lifestyle. I had to make big change. Then I bought a worm bin…" Angela snickered.
Adding to the array of "veg friendly" store fronts present like Brick Road Pizza, Electric Cheetah, Erb Thai, and Moxie (GR's first vegan-friendly salon), Tree Huggers is right at home. This summer, Angela added bulk tofu (and other organic bulk food/household goods items such as laundry detergent, spices, teas, veggies, and fruit). Now to most of you reading this, it might not seem like such a big deal that she added the groceries and tofu, but in addition to carrying my favorite Michigan tofu, China Rose true to her green form, she began coordinating the pick-up of most of her veg-friendly neighbors' orders too—to save on fossil fuel consumption! Angela walks the walk people!
Angela considers herself a learner by submersion. She didn't walk into the eco-friendly business as an expert as she describes it herself: "I offer perspective as a normal person who just wanted to do more" in the community. She was confident that if people just knew more, they too would get inspired. "I simply wanted to create a main source of conversation and education around eco-issues—to take the bureaucracy out of the issue-make it do-able," she explained. However, she thought no one would come if there weren't tools associated with the learning. Turns out, her hunch was correct as Tree Huggers celebrated a two year anniversary in August.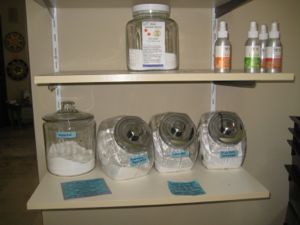 What began as a storefront with really great items to buy with an earth-friendly perspective turned into the model for community engagement she had hoped for around earth-conscious ideas. Angela says that "it's the store that makes the education possible. It funds the community engagement through fueling the conversations." Angela and her inner circle of eco-heroes offer classes a few times a month centered around issues such as the beginner vegan, beekeeping, rain barrels, worm bins, composting, recycling, and my personal favorite, non-toxic cleaning products.
My first foray into non-toxic home remedies came when I had a particular kind of plumbing emergency late at night after I had exhausted my super-duper turbo drain cleaner and still had the mother of all hairballs residing in my sink. This made brushing my teeth an adventure of sorts as in, will my spit actually go down the drain this time? Or will it take an hour? A day? I did what any good house frau would do and went to the Internet for support. After about five minutes of research, I concluded that it was either use a two-liter bottle of Coke or a half cup of baking soda and a half cup of distilled white vinegar to cure my problem. Since the nearest Coke was at the grocery store and it was after midnight, I attempted the natural remedy and waited until the morning. To my absolute joy and surprise…it actually WORKED! I was sold on non-toxic cleaning and started buying up all the "eco" labels I could feeling really good about myself that is…until in July I attended the non-toxic cleaning product event at the Grand Rapids Tree Huggers location. While I was pleased to take home three 5+ use products and a total of six recipes for just ten bucks that lacked all the bad-for-you chemicals most products carry, to my dismay, I learned that even the supposed "eco" products I thought I had graduated to during my epiphany could (and probably do) carry unnatural and potentially harmful products listed as "other" natural ingredients on the bottle. As a consumer, one would never know by the ingredient list or even if you placed a call to the company, truth is, they don't have to disclose so they probably won't.
Tree Huggers as a third-party indulges consumers in a one hundred percent full-ingredient-disclosure policy. If Angela doesn't know that the product is sustainable and environmentally safe down to the last molecule, she simply won't sell it. "Sometimes it means I have to call a company and talk to top people in order to be sure that the products are derived from safe, sustainable resources," Angela says. She adds, "most of the chemicals are usually just filler anyway, and don't have a particular purpose in the cleaning process—it's senseless. It makes sense to most people to go natural when it works just as well—it's simply a matter of people knowing this to be true."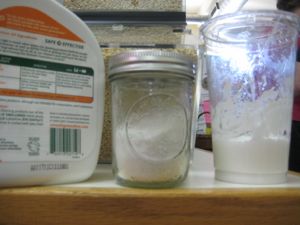 Angela hasn't stopped there; she is literally taking her experience to the people offering classes in private homes. She can help you sort through your household castoffs to help you go waste free, and can also help you throw a non-toxic cleaning product assembly party for your friends. For a list of store events, please visit Tree Huggers on Facebook.
Three Recipes for a Non-Toxic Clean
I won't give away all of Angela's secrets, attend a class to get the rest as well as to have all of your questions answered. It's worth every penny.
Soft Scrub
Simply mix all ingredients together in an airtight container to prevent it from drying out. I found that this is also an excellent grease stain/spot remover from dry-clean only clothes. After a quick warm water rinse, I saved my favorite skirt from a premature death.
*optional: three to four drops of your favorite essential oil (tea-tree or lavender are recommended as they have additional cleansing properties)
Laundry Detergent
Mix ingredients together in a recycled plastic container and store by your washer. Administer two tablespoons to each load of laundry.
*optional: ditch the dryer sheets and liquid fabric softener. Instead, use one half cup white distilled vinegar in the laundry rinse cycle will do the trick. Use it like you would fabric softener.
Multi-Purpose Cleaner (floor, counter, window)
Use a funnel to add ingredients to a recycled spray bottle. Use in place of your normal counter top, floor and/or window cleaner.
*tip: a little more elbow grease is required for the windows/mirrors until the substance evaporates, due to the absence of alcohol in the mix which in other store concoctions speeds evaporation. Be patient. You are burning calories, it's like a two for one benefit.
Written by: Adrienne Wallace is a social-change leader, Grand Rapids West-sider, wife to techie/PR geek Derek DeVries, mother to rescue pups Walter and Bosley, faithful sunscreen-wearer, and loyal Eco-trekker. She works in public relations by day at 834 Design & Marketing (834design.com) but by night she is a Doctoral student at Western Michigan University and adjunct faculty member at Grand Valley State University.