In an effort to get to know some of the faces on the frontlines of health care, West Michigan Woman sat down with Karen Kennedy, MD, Family Physician and Primary Care Regional Medical Director at Mercy Health Physician Partners, to learn more about herself and why Mercy Health is seen as an excellent health care provider in West Michigan.
What drove you to pursue a career in health care?
In grade school, I thought I wanted to be an author but then ran into writer's block! Then, I showed an interest in astronomy for a while, until I realized that I simply loved anything on Nova or other television shows having to do with the medical field. I'd never be bored because the field changes constantly, you interact with human beings in an intelligent, fun, worthwhile and meaningful way, and the brilliance behind scientific discoveries is continually astounding. I'd do it again.
What's the biggest challenge you've faced in your health care career?
I'll mention two: one personal and one regarding patients.
The personal one has to do with test taking. I'm much better in person than on paper and haven't always been stellar in some tests I'd taken, even in residency. It was frustrating because you're judged based on how skilled you are on exams. I learned later I was simply reading into the questions WAY too much, and I needed to just relax! I'm good now.
As for patients, I love working with all patients but have spent much of my career serving the at-risk, vulnerable and underserved communities. A huge challenge was to teach patients how to advocate for themselves in the health care field, and oftentimes in life. As a professional, we learn how to operate within our system, ask for things in a certain way, go to a certain place for certain items. Patients don't often know how to do this and just educating them on how to vent their frustrations or needs in an effective, clear, understandable way was a challenge. But it's not without rewards when you see them navigate through the world much more deliberately and expertly.
As I answer this question, I'm reminded of being a Chief Resident in New Jersey during the 9/11 attacks and working with other leaders in preparing our Robert Wood Johnson Hospital for "wartime"-like patient numbers was a challenge as well. But when I had an amazing team, it didn't put as much weight on my shoulders.
What makes you passionate about practicing medicine?
I am such a believer in food, exercise and spirit for health. Pharmaceutical medicines have their place, but if people only knew the power harnessed in their brains, their will, their courage and physicality, we wouldn't depend on medicines as much in the least. Encouraging and seeing patients to realize this for themselves over time is one of my greatest rewards in life, honestly. It teaches a life skill as opposed to just one medical answer.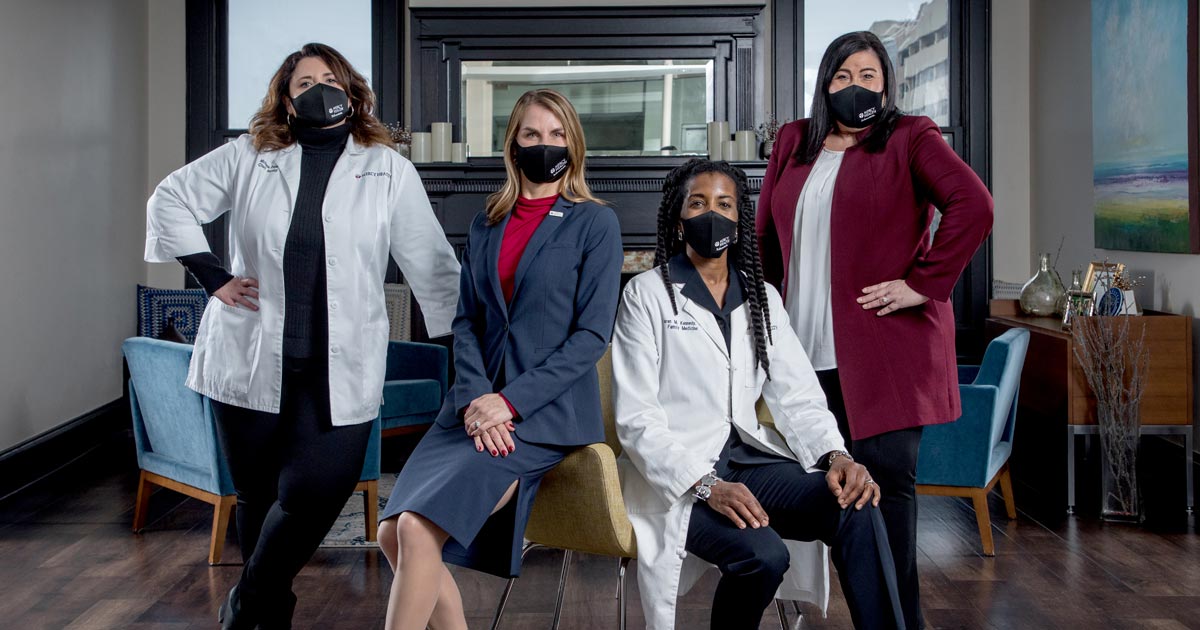 From left to right: Michelle Peña, MSN, RN, NEA-BC - Chief Nursing Officer, Mercy Health Saint Mary's Campus; Kristen Woods, MD - President, Mercy Health Physician Partners;
Karen M. Kennedy, MD - Primary Care Regional Medical Director, Mercy Health Physician Partners; Michelle Rabideau, CRFE, MPA - President, Saint Mary's Foundation
What's the biggest challenge Mercy Health has faced in recent years?
I'd say probably the regionalization of the group in the last two to three years has been a great challenge—and the incredibly talented staff and administrators with whom I work were all up to the task.
The Grand Rapids colleagues formally merged with the Lakeshore colleagues to form our present regional Mercy Health West Michigan group in the last few years. The simple task of process standardization is challenging and ongoing, let alone onboarding a new electronic health record during this pandemic, enduring staff transitions in the midst of trying to maintain safe, quality care during the COVID crisis and trying to support the mental health of all as crisis brings out the true nature in all of us. We're truly better together.
How is Mercy Health changing the health care landscape?
We are resilient, tough, compassionate, nimble and always have our eye on excellence, regardless of our circumstances. The sheer ability to bounce back and hold firm in our Core Values of Reverence, Commitment to Those Who are Poor, Justice, Stewardship, Safety and Integrity—despite the worst pandemic most of us have endured—shows others how to maintain their existence regardless of circumstance.
On a more scientific level, I can say that forming new partnerships within the community and strengthening existing ones between local health organizations have led to such things as the formation of the Cancer Network of West Michigan, which allows us to provide world class treatment of cancers and our population overall. We've made direct-to-employer partnerships with such companies as Lacks Enterprises, of which I'm a part of personally, to form Lacks Primary Care. This innovative relationship continues to set trends with cost savings on all sides and again, emphasizes and upholds the patient experience.
What does the future of Mercy Health look like?
It looks quite bright, and the future is now! We have wonderful initiatives that intentionally focus on improving and sustaining the diversity of our workforce and professional relationships, we try to keep our fingers on the pulse of technology and how to leverage it for our patient care, and we're continually rebuilding our workforce after taking a hit during the pandemic.
Click here to learn more about Mercy Health.
Courtesy of Mercy Health.
Photos courtesy of Mercy Health Physician Partners.