What an honor it is to reach the age of 65! Reaching this milestone comes with new considerations, new opportunities and new ways to thrive.
Social Butterflies and Busy Bees
Staying active and social after 65 is easy. Many community organizations and businesses carve out specific offerings, ideal for staying fit and mentally sharp and for keeping busy.
Regardless of experience level, weekly adult ballet classes at Grand Rapids Ballet are a great way to keep fit, flexible and happy. Led by experienced Grand Rapids Ballet company dancers and faculty, classes teach technique, stretching, and conditioning—all while having fun, of course.
Chair yoga classes at MVP Athletic Clubs are an excellent way to meet other community members as you work on flexibility—even with physical limitations. Various aquatics classes offer a low-impact option for increasing strength and endurance. There's even a class designed specifically for the individual with a history of back pain or recent injury.
Interested in tasting delicious wine and cheese, and learning something along the way? Aperitivo, inside Grand Rapids Downtown Market, offers private classes sure to leave a lasting impression—from Mozzarella Making and Regional Wine and Cheese Pairings, to Chocolate and Cheese and Wine 101. Staff will even work with you to create a custom class if you seek something specific. Also worth exploring at Downtown Market are the various culinary classes and workshops inside its teaching kitchen.
If you're an art lover, self-guided or docent-led tours at Frederik Meijer Gardens & Sculpture Park are not to be missed. For a different kind of tour, the many walking clubs offered throughout West Michigan provide ample opportunity to admire local historic architecture and nature while on the move.
Continue to stay involved by volunteering with nonprofit and other organizations that give back to the community and have values aligning with your own—a fulfilling option for bettering your life and the lives of those around you.
Rest Up. Get Centered.
According to Spectrum Health, researchers found from a small study that among 49 older adults with sleep problems, those who learned mindfulness practices started sleeping better within six weeks. Mindfulness challenges you to think not about the past or future, but about the emotions and thoughts you're having in the moment—without passing judgement. There are several ways to implement mindfulness into your daily life for a better night's rest and an overall less stressful life:
Use guided meditation techniques found online, through podcasts, in books or via local classes.
Take 10 minutes to do some yoga or stretching, in the morning when waking up and in the evening before bed.
Once a day, do a head-to-toe body scan and release any tension you're holding in different parts of your body.
Go on a walk and actively notice the sights, smells and sounds around you.
Mayo Clinic notes overall evidence from clinical trials supports the effectiveness of meditation for various conditions, such as stress, anxiety, pain, depression, insomnia, and high blood pressure/hypertension—while preliminary research indicates meditation can also help people with asthma and fibromyalgia.
Though it may at first seem difficult to slow down and practice mindfulness and meditation, it gets easier with practice. You're likely to notice a difference by sticking with it!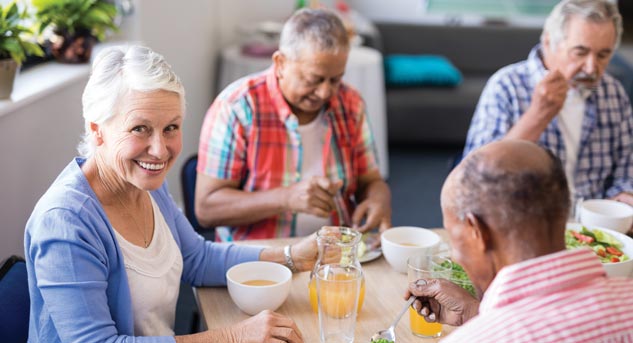 It's a Lifestyle Change! Retirement Communities
When it comes to making the choice to move yourself or your parents into a continuing care or retirement community, it's important to know your options. One of the positive aspects to consider is that living in a community can mean not having to think about as many details.
"There are so many reasons that living in a retirement community makes life easier—no more worrying about shopping for and preparing nutritious food, driving to a friend's house to socialize, trying to think of fun and engaging things to do, or stressing about paying your electric bill on time or taking out the trash," said Elizabeth Eardley, President of Crossroads Eldercare Planning.
"We have fabulous retirement communities in Grand Rapids that offer so many benefits and fun things to do, sometimes the kids complain that their parents are too busy to see them!"
In light of the recent pandemic, Eardley adds, it's clear we're meant to socialize with others.
"Unfortunately for a lot of seniors, our recent experience was nothing new to them," she said, noting there are over 100 senior living options in West Michigan. "We find that even if seniors thought they were doing fine, moving to a retirement community opens up a whole new world for people full of new friends and fun opportunities. We are never too old to reinvent our lives!"
Transitioning to living in a retirement community can be exciting, with the right attitude.
"The possibilities are endless in our local retirement communities," Eardley said. "Join a book club, play cards, take an art class, go to a lecture, watch movies in an awesome theater, volunteer, join a choir, get a new boyfriend or girlfriend—all from the comfort of your new home. Even for people who don't like to join in activities, having nutritious meals and friendly smiles throughout the day go a long way toward our physical and emotional health."
Moving on Out
You've made the choice to move out of your home. Or maybe your parents decided to move from theirs. What's next?
One obstacle many fear is downsizing and the move itself. Luckily, there are senior moving companies willing to offer compassionate and specialized care to ease overwhelming feelings by sorting, packing, and moving belongings—so you or your parents don't have to.
"Be sure your choice is affordable as soon as possible before getting Mom and Dad too excited," Eardley advised. "It can be disheartening to make the decision to move and find out your favorite place isn't going to fit your budget. It's important to understand how to pay for senior housing and care and what benefits may be available to help."
Independent companies like Crossroads Elder Care and the sales offices within each retirement community can shed light on options relating to cost, financing, and care, so you can you can find the best fit and learn about all the amenities offered.
---
Home, Safe Home!
If you still live in your own home, there may be important safety considerations. Have you thought about any necessary retrofitting, repairs and upgrades? Is your home equipped for your current needs or any physical limitations? Some investments might be costlier than others, yet there are plenty of inexpensive ways to make your home a safe haven.
According to AARP, it's wise to start with lower-cost changes you could do yourself: applying nonslip floor wax, putting nonskid treads on steps, adding textured no-slip strips in the tub and shower, placing a waterproof seat or chair in the shower, or removing wheels on chairs.
Once smaller changes are done, consider larger and more costly modifications, such as altering shower entries to be walk-in rather than step-over, creating zero-threshold entryways, moving light switches for easy reach from a bed or wheelchair, and widening doorways and hallways.
"Pull up throw rugs, install grab bars, make sure there are railings next to any steps, check the smoke alarm batteries, check electrical cords, and arrange furniture so there is enough space for walking," said Elizabeth Eardley, President of Crossroads Eldercare Planning. For older parents or if you have the need, she suggests getting on a schedule for outings and visitors to keep engaged. "It may also be wise to consider getting a medical alert system."
---
Having the Conversation
If you feel it's wise for older parents to transition to a retirement community, choosing a time to start those conversations isn't easy. Once you've decided to talk about it, misinformation is often the main obstacle. Educate yourself first, remind your parents you respect the fact that it's their decision, and share the benefits:
You can take your pet.
You get your own apartment.
You can come and go as you please.
Written by Sarah Suydam, Staff Writer for West Michigan Woman.
This article originally appeared in the Aug/Sept 2020 issue of West Michigan Woman.