Bethann Robins' son Kaegan, who was born with multiple severe disabilities, passed away in 2017, but his legacy lives on—to the benefit of other West Michigan parents and their children receiving special education services.
"He was an incredible person and he brought me to this work," said Robins, a regional parent mentor with Michigan Alliance for Families (MAF.)
In that role, Robins helps families whose children receive, or may be eligible to receive, special education support and services to navigate the system, in addition to directing them to state and local resources.
"Special education can be complicated and nobody can know all of it," said Robins, who for the past three years, has worked with families in Allegan, Kalamazoo and St. Joseph counties. "All the jargon and acronyms can be overwhelming. Even attorneys who specialize in it have to look things up all the time."
Robins brings firsthand knowledge to her position, having advocated on Kaegan's behalf while he was in school. In fact, all of the two-dozen MAF parent mentors statewide have had children or a close family member who received special education services.
"Our aim is to help parents become knowledgeable about the system too," Robins said.
MAF is an IDEA Grant Funded Initiative of the Michigan Department of Education, Office of Special Education, and Michigan's federal Parent-Training and Information Center funded by the U.S. Department of Education, Office of Special Education Programs.
More broadly, its mission is to supply families with children (up to age 26,) who receive or are eligible to receive special education services, with the support they need.
MAF assistance takes many forms: Beyond the one-to-one help offered by parent mentors—who are the main points of contact for caregivers—MAF also provides or refers parents to resources such as workshops and classes where they can learn more about their rights and responsibilities while ensuring their child's special education needs are met.
Key to the process is gaining foundational knowledge about the individualized education program, or IEP, a document that is developed for each public school child who receives special education. The IEP describes how a student learns, how he or she best demonstrates that learning and what teachers and service providers will do to help the child learn more effectively.
MAF parent mentors don't interact directly with special education providers, but others—known as advocates—may accompany parents or other caregivers to meetings with school personnel. MAF also does not provide legal advice or representation.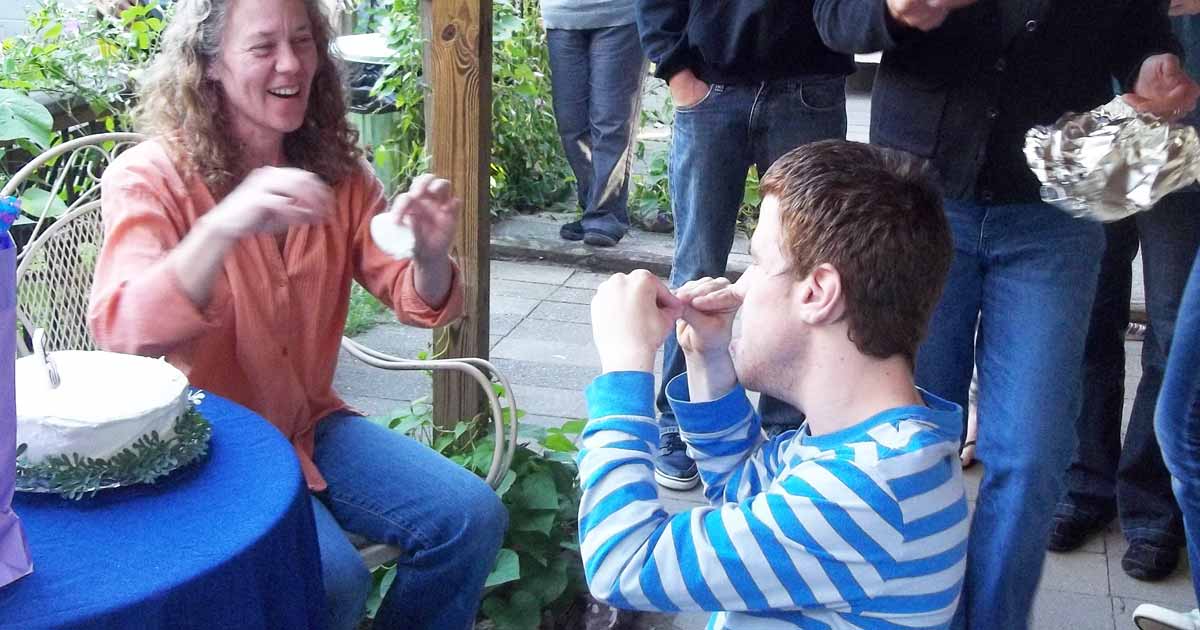 Kaegan Robins signs "more" during a birthday party for his mom, Bethann, indicating that he wanted attendees to sing "Happy Birthday" again.

"Do as I say, not as I did."
It's their individual experiences—including mistakes they might have made while advocating for their children—that uniquely position MAF parent mentors to effectively serve others with children in special education, Robins said.
Some advocates might know the ins and outs of the special education system, but might not fully appreciate what parents are feeling because they have not had a child with a disability of their own. Others might understand what it's like to raise a student who receives special education services, but lack familiarity with caregivers' rights and responsibilities.
MAF parent mentors are well-versed in both aspects, Robins said. "I feel like I've been able to offer that kind of support."
Robins joined MAF in October 2015 after earlier working for Parent to Parent of Southwest Michigan, an organization that also assisted caregivers of children with disabilities and that later became part of ASK Family Services. She aimed to offer advice and comfort based on her experiences with Kaegan, who died at age 24 after outliving all medical prognoses.
Reflecting on her earliest interactions with school personnel, Robins said she can attest to the importance of removing emotion from the process of championing a child's special education services.
"When Kaegan went to school, I knew how to advocate for him, but not appropriately—which I eventually came to realize," said Robins, who also has a 33 year-old son. "Later, I came to understand that I'd dropped the ball."
With emotion clouding her judgment, Robins said she had failed to focus on specifics of special education that would have benefited her son.
"I had done it with a loud mouth and a bull head," Robins added. "Everything could have been done a lot better for everyone if I knew better how to communicate. I look back sometimes and I'm amazed at how much I got away with. Now, I like to tell parents to do as I say, not as I did."
Supporting Each Other
Many schools are already contending with budget constraints and overworked personnel.
"It's not good to go in overly assertive," said Robins. "You have to assume some good intent on their part. If you come in hot, the issue becomes about your behavior rather than your child's needs."
She describes special education as a playing field with rules. "That's where we're all supposed to meet," she said.
Parents who recognize and remain within the boundaries are in good standing to cry foul if schools do not properly implement an IEP, or are out of compliance with state or federal special education laws.
"Nobody likes being told how to do their job," she said. "As a parent, I recall the urge to go in and say, 'Here are all the faults in your system and here's how to fix them.' But just as in society in general, there's too much emphasis on focusing on faults. Instead we should focus on supporting each other to do better."
Learn more about the Michigan Alliance for Families at 800-552-4821 or [email protected].
Courtesy of Michigan Alliance for Families. Pictured above: Kaegan Robins signs "more" during a birthday party for his mom, Bethann, indicating that he wanted attendees to sing "Happy Birthday" again.