Shake what your mama gave you, and add a weighted hula hoop while you're at it because, according to Merri Davis, founder of Hoop Happy Hoop Healthy, LLC in Muskegon, hula hoopers don't have muffin tops.
Merri became a hooper herself in 2009. Even though she says she failed at hula hooping as a child, after practice and determination in her adult years, she's worked the exercise into her daily routine.
"I looked like I was seizuring and I had no idea (what I was doing). I didn't have the motor memory. But one day I was standing in front of the TV…I dropped it seventy times in three minutes. On the second day, in four minutes I dropped it sixty-five times. I increased very slowly, day by day, but I wasn't going to give this up," she says.
Since then she's created seventy-five exercise moves that use the weighted hoops to give the body a total workout. Once she perfected the routine, she took her hobby out in public, and Merri encouraged other women in her community to pick up hooping.
"They all bought them they saw the inches come off," she says.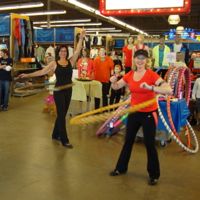 Merri's students learn to twirl the hoop around their hips as well as in one hand and transfer to the body, hips, legs, knees, and even skipping. Eventually, everyone gets the hang of it.
"My youngest hooper is 4, the oldest is 84," she says.
Hooping does more than get the heart rate up. Most of Merri's classes get to laughing so hard that they give themselves an extra ab workout, she says. In addition, hooping has improved Merri's posture.
"As we age posture does get to be a huge concern. Your stomach sticks out more if you're not standing up right. If you're standing up taller, you're engaging your core muscles. You look better, your clothes fit better," Merri says.
Merri tells hoopers to bring water, a towel, and to wear cotton because they will sweat. She holds classes inside gyms and in parks, and she offers lessons to groups. E-mail Merri for sample workouts or to find out more about hooping and holding an event for your friends or office.
Written by: Erika Fifelski was born and raised in West Michigan, and after a brief stint on the sunrise side, she's home and loving it. Erika enjoys cooking, sewing, vacuuming, and discovering new ways to live sustainably and support local businesses.
Photos courtesy of Hoop Happy Hoop Healthy LLC Facebook page.