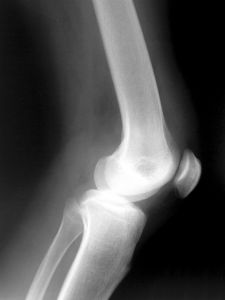 The number of necessary hip and knee replacements needed between 2000-2010 will double by the end of the present decade, and studies predict the number will double again by 2030. But how do women know if a dull ache in the knees or a lingering pain in the lower back are symptoms of joint strain? And what can women do to help keep knees healthy?
"Women are burning the candle at both ends these days, and we want to stay active and healthy. There are a lot of demands on our time and energy. When you have (joint) pain, that zaps the strength and energy and the ability to stay mobile and get around with joint pain is limits you from walking distances and makes it hard to go to the grocery store, run errands, go shopping, and all the things that are important in edition to taking care of the family and working," says Kristie Dennett, an Orthopaedic Service Line Coordinator Kristie Dennett of Holland Hospital.
Women are especially prone to knee problems because of the "Q Angle," or the alignment of the knee, hip, and pelvis. More women than men suffer from knee joint pain, Kristie says, which is why the knee should be protected early-on. Other common areas that give women joint trouble are the shoulders and feet–women put extra strain on foot joints because of ill-supporting footwear, although heels do make a girl's feet look good, Kristie says.
"Staying active is important. Keeping the muscles strong helps to stabilize the joints. Think of your skeleton as a frame, and your muscles as a support structure for your joints. You want to keep that support as strong as you can," Kristie says.
Choosing
low-impact exercises like walking, biking, or swimming are easier on the joints than exercises that include running or jumping. The knees are the platform of the body, Kristie says, and the knee joints alone carry 66 percent of the body's weight. High impact exercise or excess body weight causes wear and tear on the joints over time.
It is not always easy to tell if pain is being caused by worn out joints, arthritis, or something else but obtaining the right diagnosis is critical to a woman's basic functionality in her everyday life.
Minor joint pain can be treated at home with over the counter medicines, rest, and ice. More serious pain should be diagnosed by a primary care physician, and physical therapy may be necessary. Kristie advises women to seek out a diagnosis and follow the treatment doctors recommend. Joint problems commonly "creep up" for women in their 40s and 50s, but issues can continue throughout the rest of their lives.
"Getting the right diagnosis is really important in terms of how we go about treating that problem," Kristie says.

Written by: Erika Fifelski was born and raised in West Michigan, and after a brief stint on the sunrise side, she's home and loving it. Erika enjoys cooking, sewing, vacuuming, and discovering new ways to live sustainably and support local businesses. Photo: Adam Ciesielski