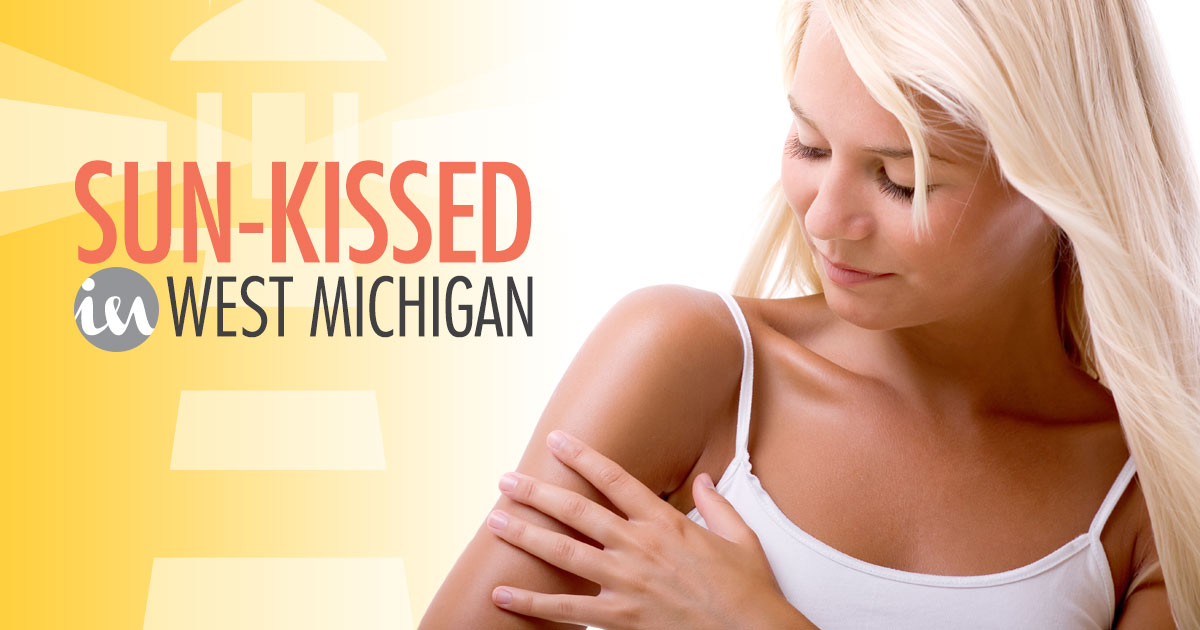 The "healthy glow" of a tan is something many of us associate with summer. And no matter how many times we hear how bad it is, we just can't seem to end our love affair with being bronzed. Who could blame us? Did you know Grand Rapids ranks #21 in the top 101 cities with lower average amounts of sunshine?
Instead of trying to break your tanning habit completely, at least commit to going about it more safely. Fortunately for folks in West Michigan, there are several local options for obtaining a great, yet safe, sun-kissed glow. Here a few ...
VERSA SPRAY TAN

Available at: Renewal Skin Spa
6080 28th St. SE
Grand Rapids
renewalskinspa.com
How applied: After stepping into the booth, the treatment sprays automatically four different times as machine "talks" you through the steps on how to position your body. A body blow dry follows.
Cost: A full-body tan single treatment, $25.
WMW Staff Review: "This was my first spray tan and I was a little nervous, but the assistant manager, Sheri, was super-helpful and patient when explaining the process and how to maximize results. I absolutely loved the way it turned out—very natural-looking, and lasted about a week. I also thought the price was very reasonable, considering it is a professional spa. I would definitely do it again, before a special event or vacation!"
---
TANTASIA SELF TANNER & BRONZER

Available at: The Bengtson Center for Aesthetics & Plastic Surgery
555 Mid Town Street, #110
Grand Rapids
bengtsoncenter.com
How applied: Self-applied lotion.
Cost: 42 oz. bottle, $36.
WMW Staff Review: "This lotion is tinted bronze, which makes it very easy to apply to avoid any streaky orange surprises. The color was almost immediate and seemed to deepen throughout the day. I absolutely loved this! It is so nice to see some color right away and not have to wait up to 24 hours. The only negative was that it didn't seem to last long. It needs to be applied every day for a few days to really maximize the color."
---
TAMPA BAY TAN AND TAHITIAN TEA

Available at: Skin Revitalizing Center
4285 Parkway Place SW
Grandville
skinrevitalizingcenter.com
How applied: A trained professional applies with an airbrush.
Cost: $30 per application.
WMW Staff Review: "While we didn't actually test this product ourselves, esthetician Stephanie Jones explained the process, highlighting how having a trained professional apply the product means no frustrating streaks or missed areas. We were also enlightened by a conversation with Dr. Jack Dekkinga about the dangers of tanning. 'Eighty percent of aging signs in the skin is caused by sun damage, and visiting a tanning booth just one time can raise your risk of skin cancer by 20 percent.'"
---
Tips for making the most of your spray tan, from esthetician Stephanie Jones:
Exfoliate your skin, and shave before getting your tan. Both activities will make your spray tan wear off sooner, so it's a good idea to take care of them in advance of the application.
Have manicures and pedicures done before your spray tan, to keep the tanning solution from being scrubbed off.
Expect your spray tan to last between four and seven days.
If you are getting a spray tan for a wedding or other special event, have it done a few days in advance, so you don't have to worry about the tan discoloring your special clothing.
Expect your skin to feel a little "tacky" after tanning application. Wear loose clothing to your appointment, and rinse thoroughly during your first shower after application.