Just thinking about a vacation is exciting! It can also be overwhelming—especially when trying to get everything done before you go and, of course, packing! Sometimes it can come together so easily; sometimes, it doesn't.
Yet packing can be fun, when you know how to successfully pack.
A Great Packing Process
Start with writing out your itinerary, by day. This itinerary doesn't have to be perfect and it can have some TBD items. What you're really looking for is a guideline from your activities.
Review your itinerary and decide what needs you have: casual, dressy, jeans, shorts, et cetera.
Put aside an area where you can lay out your outfits. When laying out your outfits, don't forget to put the accessories and shoes with them to complete the look
Start with your favorite outfit you love. Plug that into your itinerary. Then your next favorite outfit. And so on.
A Few Tips
Always pack some of your favorite items that fit great and bring you joy.
Choose a couple of pairs of shoes and build a couple of outfits per pair, so you can bring less footwear. Shoes take up a lot of space in a suitcase; the fewer pairs you take, the better.
Treat your jewelry with care. Choose a special bag for carrying your accessories. Use small plastic bags for each necklace, so they don't tangle. Always carry any special accessories with you on the plane.
Don't forget layering pieces! Bring an item that can layer over many pieces, in case it gets a little chilly.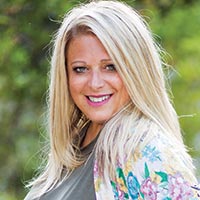 Michelle Krick is a fashion expert, wardrobe stylist and personal shopper serving West Michigan. Learn more at www.michellekrickstyle.com.
Photos by Christina Elizabeth Photography.