A playful pattern is the perfect pick-me-up, offering cheery color and visuals of spring. We can talk about what's fresh and new for spring and what's always in favor—but ladies, let's promise to always talk about and utilize prints in our wardrobe. Here are a couple of retailers that know their prints and have them ready for you this season.
DOWN TO EARTH:
"This year floral is huge and stripes are big," said Sholeh Veiseh, owner of Down to Earth boutique in Grand Haven. She predicts lots of floral tops and bottoms as a hot print among the pastel colors we'll see for spring that get brighter heading into summer. Patterned leggings continue to play a big part in our wardrobes, with Aztec designs or floral prints. Nautical inspiration, in the customary red, white, and blue, will prevail as well. "I love stripes," said Veiseh. "To me, they're flattering on anybody." Seek out florals in sheer fabrics—and we dare you to mix floral on floral. Done right, it's garden party-gone-wild and a girly, confident, bold perspective.
ALLY'S BOUTIQUE: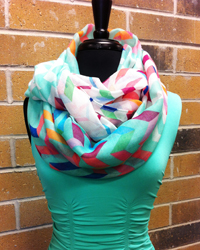 If you're looking to incorporate small bits of playful pattern into your look, stay covered in cool spring temps with a printed scarf from Ally's Boutique in Grand Rapids. "We've been selling scarves like crazy. One of our scarves is an ombre scarf," said Ally Bakrow. Scarves in soft pastels—mint green, peach, banana yellow, violet—are quite appealing. Bakrow also loves color block design: "Chevron goes back to a form of color blocking … and the print is more modernized these days." If you're pattern-shy, go a more sophisticated route with stripes, polka dots, and floral. What's popular in fashion often follows through in home décor, so test out pattern on lampshades, throw pillows, or curtains. Accessories are an easy way to get the look, with low commitment.
STUDIO K:
Prints are the most important thing for spring says Kimberly Petroelje, owner of Studio K. From zigzag and chevron inspiration to lattice prints, ikat, paisleys, and florals, you have plenty of choices to add a little life and newness to your wardrobe. "It's the best way to update your closet," said Petroelje. "We call it a closet refresh." If you only buy one pattern, Petroelje suggests lattice—a bit of a modern take on an old pattern. It comes in the form of a Jude Connally dress at the Holland store and has a clean, sophisticated appeal. The dress is proudly made in the USA on luxurious, easy-care fabric. (No dry cleaning necessary.) Just wash and wear for a springy look that's effortlessly upscale. p.s.: Don't leave out polka dots. "It's a tried and true fabulous spring look that's fresh like spring."
JADE: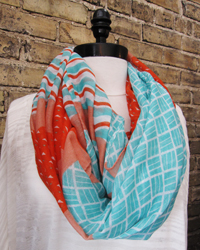 We keep saying it, but seriously: Florals dominate this year—and Jade, in Rockford, is seeing them in feminine pastels. If floral turns you off, owner Julie Cronkright recommends stripes and edgy Aztec and geometric patterns, but in spring colors to stay on trend and updated. Cronkright notes, "tons of black and white and chevron is big like last year, and it's still going." You'll see patterns popping up everywhere, and at Jade you can find them on maxi dresses, leggings, and tops. "We have a lot of dresses in chevron and stripes, a lot in maxi skirts too." Pattern adds more life to your style, so pick up one of the $18 scarves at Jade. "A piece like that just changes things up—with a white T-shirt and jeans you can make different outfits."

Written by: Missy Black is a contributing writer for West Michigan Woman.