Shoe sales come and go—but when you throw in the word "mega" and "multiple tents," you've got our attention. On September 25, from 11 a.m.-7 p.m., Wolverine Worldwide holds the Mega Sample Sale at their Rockford headquarters to benefit the Heart of West Michigan United Way. What this means is footwear and selected apparel from $10 to $35, with savings up to eighty percent off suggested retail pricing. The sample shoes "sometimes are never used," says Kelly Ballou, marketing director for Caterpillar. "They might never even come out of the box, or might be put on a table or quickly tried on or used for trade shows." Traditional sample sizes include a 7.0 for women and a 9.0 for men, but the sale will include a range of sizing.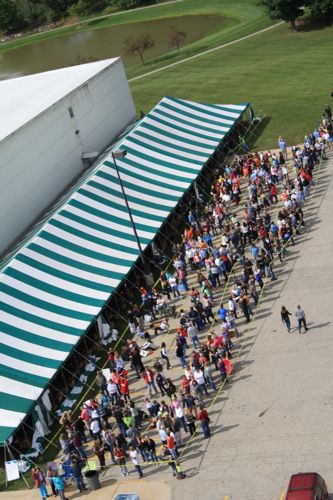 Shoppers should anticipate browsing through around ten thousand pairs of shoes. The sale features footwear for all ages from Wolverine Worldwide's family of brand's including, Bates, Cat Footwear, Chaco, Cushe, Harley Davidson, Hush Puppies, Merrell, Patagonia, and Wolverine. If you're a shoe person, you can grab children's shoes for as little as $5 or winter boots for $25.
"If you're looking to outfit your family with shoes for the fall, we've got everything from heavy winter boots to sandals and dress shoes," said Ballou. Bargain hunting for apparel can be found among such items as yoga pants, ski jackets, fleeces, and raincoats. All proceeds go to the Heart of West Michigan United Way and support the needs of our community.
It's never been more true that the right pair of shoes can change your life—and with this sale that message doubles to change the lives of others. Translation? Feel good shelling out tons of cash for quality shoes at rock bottom prices that, in the end, benefit a good cause.
The sample sale will be held at the Wolverine World Wide corporate offices in Rockford at 9341 Courtland Drive, in the big tents adjacent to the water tower. In addition to the sample sale, Sprint will be on-hand for electronics recycling. Bring in your old phone and get a Sprint cloth bag to tote home all your new, cool shoes, while supplies last.
Call Wolverine Worldwide at 866-5500 for additional information—and stay outta my way as I scoop up the ultimate in shoe loot!
Written by: Missy Black is a freelance writer specializing in fashion. One of her favorite fashion interviews was Nigel Barker from America's Next Top Model. Her love of fashion keeps her awake at night, dreaming of cheetah-print flats paired with red skinny jeans and anything lace. Missy lives in the Grand Rapids area and has written horoscopes and restaurant reviews, and enjoys another title as shoe copywriter. When her nose isn't stuck in a book, you'll find her in an antique store or flea market.