Poetry in clothing form, the kind of garments the girls wore in The Great Gatsby—those are of some of the dress styles found at Myrtle Mae's Chic Boutique, the heart and soul of Harder and Warner Nursery in Caledonia.
A little flapperish and a lot vintage looking, the collection of lightweight spring dresses in creams, champagne, and tea-stained hues are feminine and flirty, in designer brands from Ryu, Cecico, and areve.
There's a wispy black dress with tulle decoration. I spied a lace-tiered number in brown and a series of rose-colored choices, along with an oatmeal-colored lace dress with a green velvet ribbon belt. The boutique dresses are sure to make anyone an instant romantic and are pretty, classy, and party-ready.
The cream of the crop might be a fancy frock with a cream, pleated, gauzy skirt attached to a lace top (yes, I said lace again) with an embellished neckline of flowers and sequins. It's the sort of dress that only exists in your dreams—or in this charming clothing, jewelry, accessory, and home decor boutique. So, it's a hidden little secret of a shop, but maybe not for long…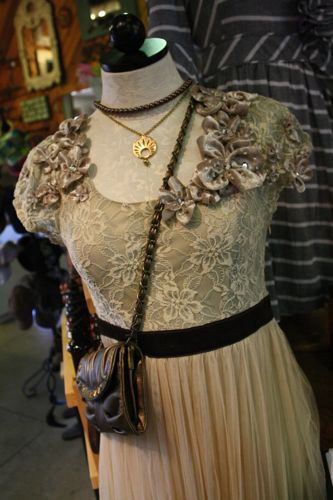 "We're not selling the clothes, we're selling the feeling you get when you're wearing them," said Catherine Davis, resident Garden Girl. "We can do a spring facelift from wardrobe to walls!"
Stop in for a spell, and daydream where you might wear one of these amazing dresses. With the promise of spring around the corner, you'll have plenty occasions to play the role of "girl in most desirable dress" just perfectly.
Make sure to check into Myrtle Mae's Ladies Night event, April 25, featuring the Kameleon Jewelry trunk show, snacks, drinks, specials for the night, prizes and drawings, and a gift card to spend that evening as you come in the door.
Myrtle Mae's Chic Boutique is located at 6464 Broadmoor in Caledonia. Call the store at 698-7283 or head to its Facebook page.
Written by: Missy Black is a freelance writer specializing in fashion. One of her favorite fashion interviews was Nigel Barker from America's Next Top Model. Her love of fashion keeps her awake at night, dreaming of cheetah-print flats paired with red skinny jeans and anything lace. Missy lives in the Grand Rapids area and has written horoscopes and restaurant reviews, and enjoys another title as shoe copywriter. When her nose isn't stuck in a book, you'll find her in an antique store or flea market. Photos by Missy Black