When your youngest daughter's name is Pearl, you have an eye for what looks good, and you used to sew, so it's natural to open your own children's clothing boutique, no?
Lindsey DeYoung runs Polka Dot Pearl, an Internet-based children's boutique. DeYoung's background is in photography, and she's ready to share with the world her secrets for outfitting your little darlings.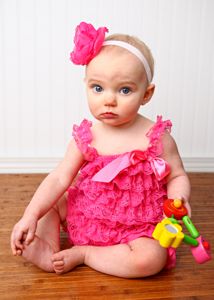 "Coming from that experience of helping families pick out clothes for their kids and coordinating outfits—I pull that into the selections I order," said DeYoung, who imports the clothing from other countries and features Wednesday sales on the Polka Dot Pearl Facebook page. The limited pieces may be bought on the spot, and whatever doesn't sell that day heads to the online storefront.
With the Easter holiday around the corner, moms could dress girls in selections such as a cute tutu for spring pictures or a number of choices with bow, dot, and lace embellishments. Pieces in the line range from vintage pretty to fun, colorful, and funky. With dresses and twirly skirts, girlie girls are going to love the fun and fresh looks. And
DeYoung is hoping to add some boys items in the future.
"When my children feel good about themselves and are happy—that's what brings me joy," said DeYoung, whose three girls love dressing up. With Polka Dot Pearl's reasonable pricing, moms could find some unique pieces for a wardrobe that's hand-selected and heartfelt.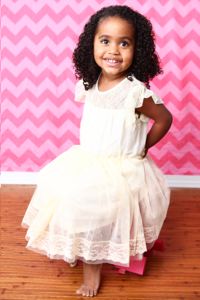 So, what does Polka Dot Pearl clothing remind DeYoung of? "Spring days, a walk in the park with my kids—happiness."
All together now: Awwwww! Check out all of that dreaminess at the Polka Dot Pearl Facebook page or at www.polkadotpearl.com <http://www.polkadotpearl.com/>

Written by: Missy Black is a freelance writer specializing in fashion. One of her favorite fashion interviews was Nigel Barker from America's Next Top Model. Her love of fashion keeps her awake at night, dreaming of cheetah-print flats paired with red skinny jeans and anything lace. Missy lives in the Grand Rapids area and has written horoscopes and restaurant reviews, and enjoys another title as shoe copywriter. When her nose isn't stuck in a book, you'll find her in an antique store or flea market.