Weddings are magical. From the moment the ring is presented to a girl, a wave of super-human powers surge through her body, propelling her into planning mode with the tenaciousness of a saber-toothed tiger. OK. So we kid. But the truth is, planning a wedding is quite an undertaking. Make the process fun and make way for GRunveiled, a wedding show for the contemporary bride that takes the "something old" out of the whole borrowing rhyme.
"The difference is that we're more of an art show," said Aletha VanderMaas, co-creator of the event. "We have real artists, working with you one-on-one. We like it to be as casual as possible, with an atmosphere that is lighthearted."
The untraditional show wants to share in your excitement, and offers services such as hair accessories, jewelry, photography, cakes, invitations, musicians, wedding planners, florists, videography, caterers, and bartending services. Even if you're not ready to book, "brides can come and shop and look and just get ideas," said VanderMaas, who knows from experience that even clients spending lots of money still want to attend and have that bridal show experience.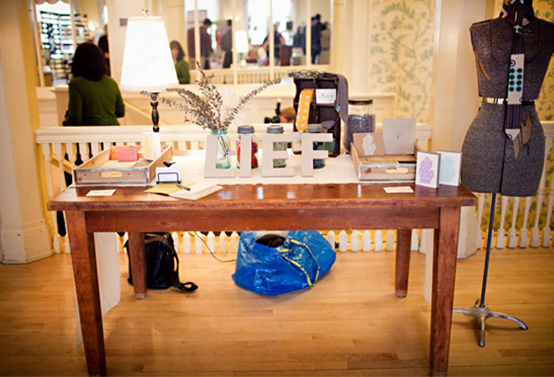 "Crowd faves are cake people—you get to taste samples!" said VanderMaas, as she namedrops MiraBella Confections, The CakaBakery, and Swirled Cupcakes (her favorite) as attending. This year, roughly two dozen new and returning vendors are on hand, including the notable Sitting in A Tree.
"It's wedding websites for design consciousness couples—people who care what things look like," said VanderMaas, who also mentions Something Borrowed, a vintage staging and rentals company out of Allegan.
Grab your mother, bridesmaids, and friends for a girls' night out with a mission in mind. Party favors? Free parking downtown—and the fact that no e-mail and spam follow you after the show. Business cards are handed out, but you forego all unwanted contact.
GRunveiled will be held at the beautiful, historic St. Cecilia Music Center on January 25, from 5 to 8 p.m. Tickets are $4 each, or $6 per couple. For more information visit www.GRunveiled.com, call 616-452-8561, or e-mail [email protected].
Written by: Missy Black is a freelance writer specializing in fashion. One of her favorite fashion interviews was Nigel Barker from America's Next Top Model. Her love of fashion keeps her awake at night, dreaming of cheetah-print flats paired with red skinny jeans and anything lace. Missy lives in the Grand Rapids area and has written horoscopes and restaurant reviews, and she enjoys another title as shoe copywriter. When her nose isn't stuck in a book, you'll find her in an antique store or flea market.