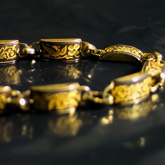 Fashion includes fashion accessories, like jewelry. Updating your look is easy and affordable when you do so with new jewelry.
It's easy to familiarize yourself with jewelry trends when you go online. The web has a myriad of fashion websites and can point you to the look you desire. You'll also find tips on what's new and how to wear your new accessories with outfits you already have.
Use fashion magazines to pin point the latest trend in jewelry fashion. You can read some magazine articles online, or find the print versions for a more traditional read.
One fail safe way to pick up on what's hot is to go shopping. You'll find styles and trends lining the isles. Doing a little window shopping gives you a chance to price out trends and decide what you like best.
Look to the front pages and home pages of fashion resources to find out what is currently popular in the accessory world. You'll be informed before you hit the stores so that you can make your shopping experience efficient and successful.
Source: Content4Reprint. Photo credit: Carlos Paes.