Summer is almost over (oh, c'mon, everyone's thinking it), so why not grab a few last rays of sunshine and a few last minute summer items for one last fashion fling! Think colorful and funky jersey headbands that run for around $16 to tame wild beach hair.
"We offer different styles of them. We do great with them year round," says Karla Scheifele, owner of Karla's Place, a unique gift boutique priding itself on affordable items and a welcoming environment that Scheifele describes as "a place that makes you smile."
Rock those head wraps throughout the year and check out a similar style in the headbands created from old chenille bedspreads made in Kentucky.
Save a little summer with a dainty vessel necklace priced at $17. Wear the necklace now or stock up for next year.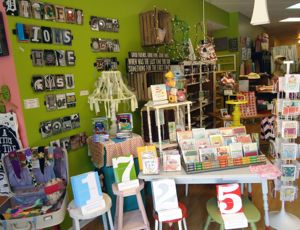 "I think they would be cute filled with beach sand or for a vacation to take back a little Lake Michigan. In the dead of winter you can be reminded of the wonderful beach we are surrounded by and how fortunate we are," Karla says.
Speaking of our great state, Karla raves about the popular Michigan items in the store.
"Anything Michigan is really popular right now. I've got napkins for $4.95 and Michigan towels," she says.
But the love of where we live doesn't stop there. "I just love being in downtown Holland. There's always events going on."
Karla's Place is located at 17 East 8th Street in Holland. Contact the store at 298-2755 or Facebook Karla's Place and drool over merchandise postings.
Written by: Missy Black is a freelance writer specializing in fashion. Her love of fashion keeps her awake at night dreaming of Cheetah print flats paired with red skinny jeans and anything lace. Missy lives in the Grand Rapids area and has written horoscopes, restaurant reviews, and enjoys another title as shoe copywriter.