The best way to maintain even skin tone throughout the summer is by applying sun screen, and lots of it. But one afternoon in the sun can imprint a halter top tan line for the rest of the season, and that just won't do when your bridesmaid dress is strapless. Here are some suggestions, as provided by our readers on Facebook, for ways to treat sunburn, and treat it fast, so that you can avoid itching and peeling before your skin's next public appearance.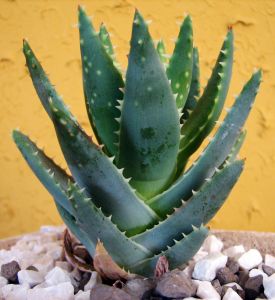 Aloe
Using aloe to treat skin raw from a sunburn soothes and and heals. Sarah Griffith Leis from Grand Haven gets creative with her aloe and freezes it in ice cube trays. "Feels good on burn!" she says. Buy aloe in any beauty department, or grow it in the house like Maggie Baker Conklin from Saugatuck. "I've seen it stop pain in ten seconds," Maggie says.
Lotion
While your burn is healing, try to stay out of the sun as much as possible. Shelly Batterbee uses unscented lotion throughout the day while she's waiting to get back outdoors. "I have had years of experience–sometimes I am convinced I can merely look outside on a sunny day and end up with sunburn," she jokes.
BeautiControl's Skinlogics Corticure Comfort Lotion with Chamomile "helps relieve and comfort irritation and itching," from a number of skin exposures including sun burn. Amy Sall Cooper of Hamilton sells the product online and she says it "takes the burn out." Contact a BeautiControl representative near you!
Home Remedy
Get back to basics by using vinegar to combat the burn. Soak towels in white vinegar, ring them out, and lay them across your sunburn. "It soaks the heat out. A relief!" says Cynthia Marie Molmquist.
Whether you buy your relief or grow it in the window, preventative measures will save money, and pain.
Written by: Erika Fifelski is the West Michigan Woman magazine editorial coordinator. She was born and raised in West Michigan, and after a brief stint on the sunrise side, she's home and loving it. Erika enjoys gardening, vacuuming, and discovering new ways to live sustainably and support local businesses. Photos: Malingering, Sergio Roberto Bichara, jcarillet