What are you using to organize your office on wheels, aka your car, or to carry your veggies from the garden, or your beach towel to the pool? Farmers markets and beach fronts are dotted this season with market totes in various colors and patterns that make any summer trip a breeze.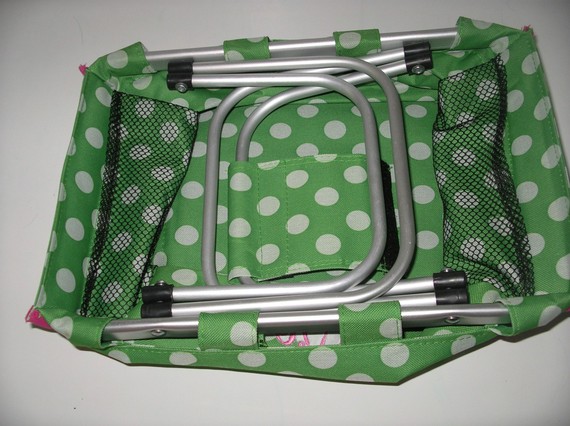 Market totes have aluminum frames and are covered with fabric that can be customized depending on where you buy. Prices vary from $12.99 to $36.95. Large totes are 18"L x 11.5"W x 9"H and mini totes are 12"L x 9 "W x 7"H. Collapsable frames make the totes easy for storage and light to carry.
Using a market bag has made my trips to and from my garden more convenient, and using the tote to carry seedlings, tools, and my book in the evenings its a better use of time for me than having to make several trips or take my car to the garden instead of walking (the garden is down the road from my house–the Hillcrest Community Garden). I keep the tote by the door and put things in it that I need to take to the garden, that way, I won't get all the way there and realize I forgot to bring my hand cultivator.
Find market totes locally at Don's Flowers in Zeeland ($27.99), at TJ Maxx in Kentwood ($12.99), or go online to Etsy.com where the variety of styles, colors, and prices abound. Let us know if you have seen market totes for sale around town!

Written by: Erika Fifelski is the West Michigan Woman magazine editorial coordinator. She was born and raised in West Michigan, and after a brief stint on the sunrise side, she's home and loving it. Erika enjoys cooking, vacuuming, and discovering new ways to live sustainably and support local businesses. Photos: Etsy seller LovewellEmbroidery