Animal print runs wild this season. It's a mood. It's also now a neutral. You need to get on board the leopard print train—or get run over!
Here's a wild idea: Infuse your wardrobe with leopard print on the bottom. All your black dress shirts, ponchos and casual tees will pair perfectly with these pants. You could even style them for the office with a chambray shirt or timeless black turtleneck. Printed pants are just the thing to perk up your wardrobe. | Leopard pants available at Threads on 8th in Holland, $168.
If you fully want to embrace the leopard print movement, go for a bold statement in this double-breasted, oversized coat. This warm, comfortable piece has a cooler-than-you vibe. It's chic, on-trend and begging to be worn with red heels. Or consider popping a pink scarf over the coat, as a happy little layer. | Leopard coat available at A.K. Rikk's in Grand Rapids, $895.
Start with a leopard print base layer and you can go in many style directions. This dress could certainly be worn alone—but add a denim jacket, black motorcycle jacket or slouchy black cardigan for myriad looks (and moods). Complete the look with black booties or sneakers and rock the print in a feminine way. | Leopard print dress available at Ila & Lucille in Rockford, $44.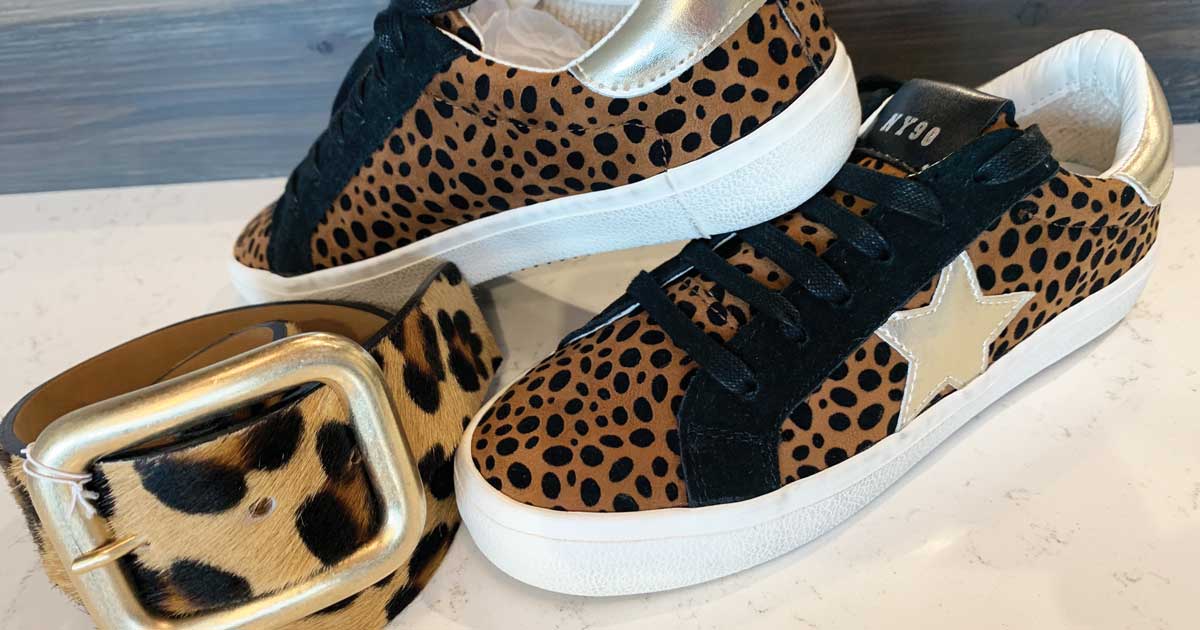 Photo courtesy of The James Salon.
Want to play it safe? We get that. Add small pops of leopard print to dabble in the trend without too much commitment. If large doses of print aren't for you (yet), start simple with statement pieces such as a belt—for your denim or to cinch the silhouette on sweater dresses. Casual sneakers with pattern are hot this season and could be worn with jeans, joggers, chinos and a few dress options. | Leopard print belt and shoes available at The James Salon & Spa in Ada and East Grand Rapids, $149 for belt, $99 for shoes.
The nice thing about leopard print? While it's receiving plenty of love now, this timeless pattern brings a feisty and glam touch to outfits. From bold statement pieces to middle-of-the-road options and—finally—small baby steps, whatever your choice, you can infuse your wardrobe with the stylish print that's always ready to play.
Missy Black is a footwear fanatic, a style child, and a contributing writer for West Michigan Woman.
Main photo courtesy of A.K. Rikk's.
This article originally appeared in the December/January 2019 issue of West Michigan Woman.