Get up to speed on the next Gina's Boutique takeover.
If you're a fan of Gina's Boutique in Grand Rapids, there's reason to celebrate—and another location to shop. While owner Gina Van Timmeren was in the market for a second location, it wasn't until she stumbled upon a spot in Saugatuck that her dream to grow and expand her business took root.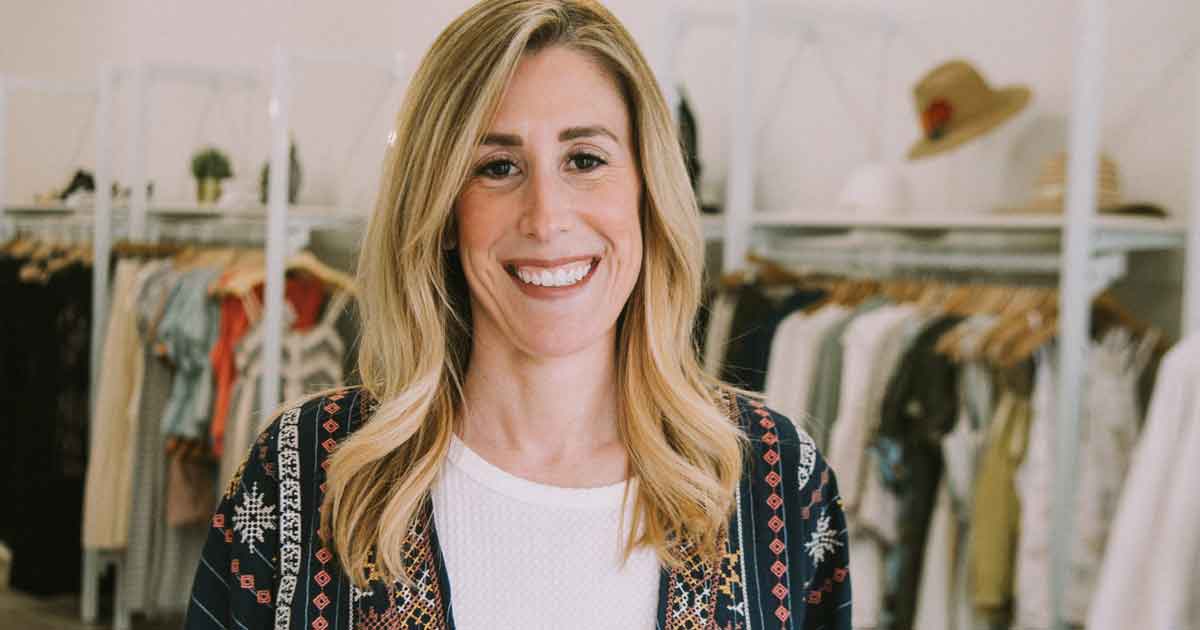 "I looked at the spot on Wednesday and signed the lease on Friday," said Van Timmeren, as she describes the ideal second store. "I live in Hudsonville and can be at the Grand Rapids location or, now, in Saugatuck, within 30 minutes either way."
While the seasonal Saugatuck store will be closed during January and February, Van Timmeren chose it for that small reprieve, to balance her first store, and for a variety of reasons. And she's excited to be a part of the abundant retail scene.
"Saugatuck is one of those cute little quaint towns.
"It's fun to be around other retailers and feed off that energy. I was looking for a community like that."
Van Timmeren and her husband were able to turn the space around within 10 days, gutting the business and updating it with new flooring, fitting rooms, paint, and lighting. The look is bright, modern, and clean, and very much a mini version of the Grand Rapids store.
"In Saugatuck, the space is narrow and long, around 700 square feet."
The shops are sister stores. Their focus and the Gina's Boutique branding and aesthetic are the same, though they will offer slightly different merchandise. Van Timmeren will stock the Saugatuck shop with items that reflect more of a beach vibe.
This summer, shoppers can expect rompers and jumpsuits—still wildly popular—and the trendy matching sets look where you can wear pattern head-to-toe.
"If you don't like to wear all one print, those pieces are easy to mix and match. Try a solid shirt with patterned pants or a solid pant with a patterned shirt."
Van Timmeren loves anything comfortable. "I'm into easy things I can throw on and casual dresses. Z Supply is a brand that offers perfect summer basics. We like tank dresses with tennis shoes and pieces like that where you can dress them up with a sandal or wedge."
While it's a steamy summer and shorts and skirts prevail, don't count out pants just yet: "Pants are back and in wide-leg and flowy designs."
Stop by the new location that Van Timmeren describes as "peaceful and charming," and get a dose of that beach town scene.
GINA'S BOUTIQUE, SAUGATUCK | 214 Butler Street
Make it a day of destination shopping! Visit these stores, also in the area:
THE BRASS ANCHOR CO. is a lifestyle shop loaded with popular graphic tees, dresses and jumpsuits. Beyond round Bali bags and bow clips for your hair, this happy shop also features home accessories. | 134 Butler Street
FOR THE LOVE OF SHOES is a shoe paradise. Check out the women's and men's selections, from activewear to everyday shoes to floral heels with the coordinating clutch purse. Brands range from Birkenstock to Bed| Stu. | 119 Butler Street
ENDORA BOHEMIAN could best be described as someplace Stevie Nicks would shop—and hang out. It's a boho general store packed with exotic kimonos, candles, jewelry, planters and things to bring your home alive. | 36 E. Center Street, Douglas
URBAN FOUND is a women's clothing store that has quite the collection of home décor, accessories and fragrances. It's all about breezy boho casual ensembles such as sundresses, tanks and skirts set among a vintage urban atmosphere. | 110 Butler Street
Missy Black, who lives in the Grand Rapids area, specializes in fashion—her love of which keeps her awake at night, dreaming of cheetah-print flats paired with red skinny jeans and anything lace. She has also written horoscopes and restaurant reviews and enjoys another title as shoe copywriter.
Photos courtesy of Ashley Wierenga.