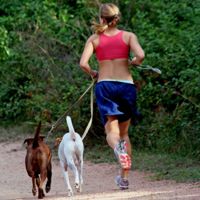 Running is hard enough on your body, especially if you're just getting back into it after winter's hibernation. Take strides to prevent unnecessary discomfort by choosing the right sports bra. Here's how:
1. Try before you buy. There is no "one size fits all" for sports bras. Try on the sports bra before you buy it to ensure you're getting something that will fit your body and give you the most comfort and support. For a sports bra that will support even the heaviest set woman, choose something with wide shoulder and racer back straps.
2. To prevent chafing, chose a fabric that wicks moisture away. Sports bras made with 100 percent cotton will absorb sweat and stay wet. Seams that are covered or bras without seams are the best to prevent chafing. If the bra does have seams, make sure they are covered with fabric. For a sports bra with an underwire, make sure the wire is completely covered.
3. Try on multiple sports bras of different sizes. Your traditional bra size may be different than the size you need for high levels of activity. Material should not wrinkle or bunch–if it does, the bra is too big. A sports bra that cuts into your skin is too small. Make sure you can slide two fingers under the straps.
4. It might feel silly, but jogging in place or doing jumping jacks in the fitting room while wearing the bra you are trying on is a good way to test how it will work for you. When doing so, the bra should minimize movement.
If you have to buy your sports bra online, make sure there is a return policy. Update your sports bra wardrobe after seventy-two washes, when elasticity is diminished, or if you gain or lose weight.
Source: Christine Luff Photo: Cheryl Empey