One of the nicest things about summer is brightly colored toes and open, airy sandals. Pick a bold color and show them what it means to look good from head to toe. Besides, it might take the focus off of your summer hair issues. (Anyone else frizzy?)
Keep feet smooth, clean, and sandal-ready with the Piña Colada Pedicure service at A Charmed Life Nail Salon in Rockford. "Piña Colada is our seasonal specialty," said owner Kristine Gault. Creating the "mood for a new season," this pedicure has a fresh scent and features a piña colada sugar scrub and piña colada whipped body butter. Indulge in a foot and leg massage followed by a paraffin dip for $46.
Want to stay on trend? This season, your best bet is to collect coral colors—and Gault notes the salon has one for you, with the popular summer hit, Lobster Roll. Perfect pairings come in many forms, and A Charmed Life Nail Salon and For the Love of Shoes in Saugatuck gives you a few ideas to stand out in a crowd: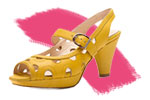 Yellow Sandal + Pink Bikini Polish: This features the vintage-inspired design of the Leslie style, by Sacha London. The sunny yellow slingback's peekaboo cutouts and open-toe construction begs to highlight some preppy pink polish for a bright, beachy vibe. The comfy shoe "you can wear for hours and feel great in," according to Store Manager Kerri Shannon, looks great peeking out from beneath a skirt.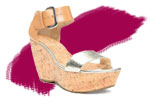 Shiny Sandal + Sultry Sunset Lavender: This features the Malibu style by Donald J. Pliner. With a nude ankle strap and light gold shine at the toe, this style has a cool, glam attitude that's easy elegance—and the lavender or purple hues play off of that golden shimmer. Add a strong wedge heel in cork and this look lounges by the pool, too. "It's a chunky, but sexy shoe."
Working in a shoe store, Shannon find people look at her feet all of the time. "In the summer, I always get a pedicure and typically do a bright red or classic deep maroon color. It's important to grab a color that accentuates the shoe. You want your toes to match."
Written by: Missy Black is a footwear fanatic and a contributing writer for West Michigan Woman.
PHOTO CREDIT: Images courtesy of For the Love of Shoes, Saugatuck, Michigan.