In September, our newly created Next Gen Advisory Council convened for the first time and one of their top priorities was to discuss how we could make it easier for younger women—and men—to join and become active in Inforum. It was a fair point—one the council made a priority to address over its first few months.
Our organization offers a robust assortment of high-quality engagement opportunities for our 4,800 members in West Michigan and Metro Detroit that include more than 30 affinity groups, a mentee/mentor app-based program, industry groups, events, podcasts, formal leadership development training and informal seminars.
It's a lot of opportunity, but it also can feel like too much to navigate.
The council members asked us: How can you help us understand and evaluate all the opportunities that you offer? How can you help us start to become involved—virtually and in person—in a way that doesn't feel complicated? Will we feel represented as well as welcomed?
The result of those discussions was a special six-month, $35 membership for younger adults—women and men—from ages 18-33. The plan helps those new members connect and experience what Inforum has to offer through a series of monthly challenges that include:
Attending any affinity group in-person or virtually.
Connecting with other members for coffee or a virtual lunch break.
Volunteering at an Inforum in-person event to assist with registration.
Participating in an orientation session to get the most of out your membership.
Giving feedback to help improve the next generation of leadership.
All of these activities are enjoyable, but they also serve an important professional purpose. They help build your knowledge—and your network.
The importance of networks isn't always apparent, but it is in fact a truism that you need to build a network before you need it. Networks help you increase your visibility, better help your company grow and create more impactful connections. And the more diverse your network is, the more you learn and grow.
With Inforum, you can increase your connections in both West and Southeast Michigan through affinity groups available only to members. And it's not just about business.
As a longtime member told us: "I was recently at dinner with several longtime friends, and I realized that I had met all of them through Inforum."
We hope you will join us.
You can learn more and join here, or for more information, contact me at [email protected]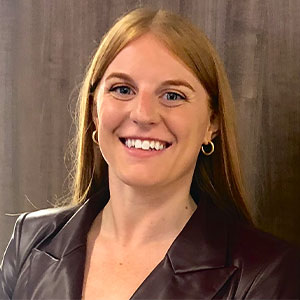 Written by Anna Grace, Director of Events and Membership for Inforum.
Courtesy of Inforum.
Photo Courtesy of Inforum.