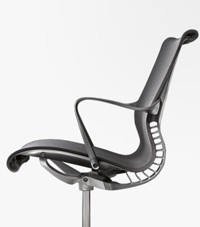 As a West Michigan resident, you have doubtlessly heard of this area's furniture heritage. It may not be the most glamorous claim to fame, but West Michigan is serious when it comes to making furniture.
Herman Miller is a West Michigan name that is known the world over. Most popular for their Eames chair, Herman Miller is a trendsetter when it comes to both the design and functionality of furniture. Beyond their groundbreaking sense of form and design, Herman Miller has taken the lead in researching how those elements affect mood and productivity. Whether it is in the classroom, the office, or at home, the way that you construct a room will influence the way people feel, work, and perform in that space.
What does this mean for you? Well, even if you can't afford Herman Miller furniture, you can apply some of their overriding design principles to your own space and pieces.
Take stock and first, figure out what you need in order to make the space successful. You have a job to do in that space (work, entertain, learn) and the room also has a job. What is required to make that happen?
Remember that just because something looks weird doesn't mean it won't work for your space. Aesthetics can be misleading when it comes to function.
Once you have what you need, think about what you want. How do you want to feel when you are in the room? How do you want others to feel? Your own personal sense of style may be different than the Herman Miller vision, which does skew a bit 70s-esque. Whatever you decide, remember that less is often more when it comes to artwork on walls and tchotchkes on tables.
Learn more about Herman Miller and their design philosophy!
Written by: Julie Anne has an impressive vocabulary and an extraordinary sense of humor. She has even entertained the idea of doing stand up comedy someday! When she's not writing, you'll probably find Julie Anne at the Farmer's Market or home with her nose in a book. Photo Credit: HermanMiller.com