Men typically dominate the legal profession—but that doesn't mean that women don't lead the charge.
While the profession is constantly evolving to give credit to females where credit is due, women in law face discrimination that their male counterparts do not. Have any men with a law degree been mistaken as a secretary?
Probably not.
From practicing law to managing the firm, four women from Miller Johnson share their stories. Together, they shed light on the gender balance in the legal profession and what it takes to be a woman working in a law firm.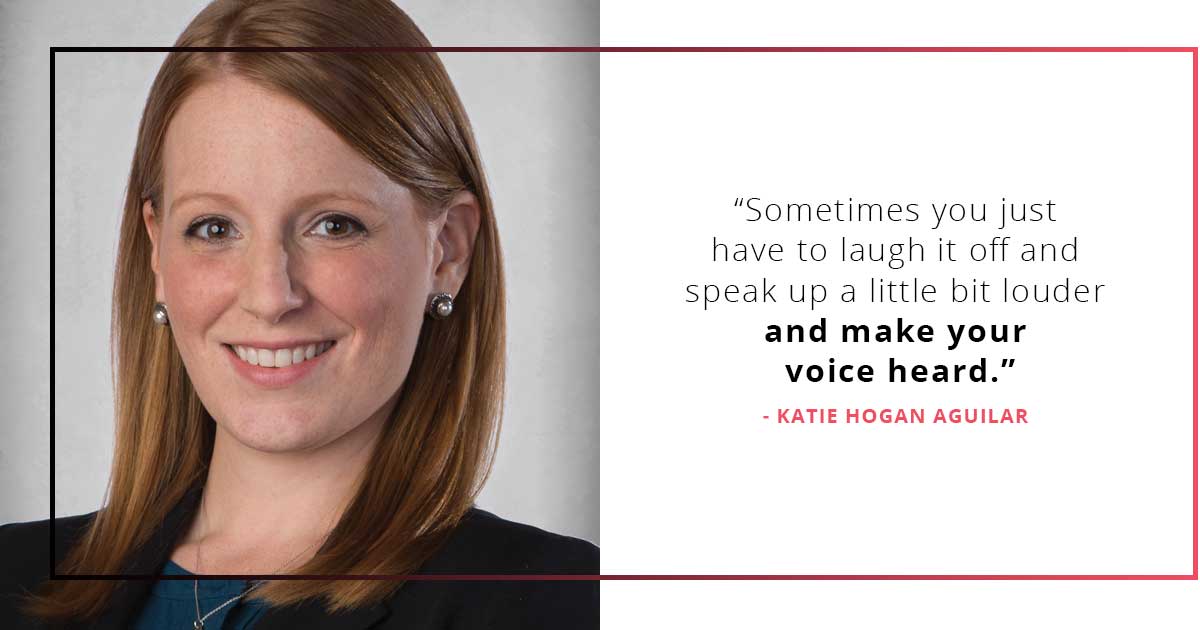 Katie Hogan Aguilar
Attorney at Law
Katie Hogan Aguilar's father is an attorney.
From a young age, she was comfortable with the role of a lawyer and what that looked like in a day-to-day setting, as opposed to the glamorized version on TV.
"On TV, they're always in court. The issues are always really edgy and exciting. Everything goes to trial. When you're a lawyer, you may never step foot in a courtroom. You may sometimes step foot in a courtroom. What you're really doing is interacting with your clients."
Katie has been practicing law for nearly 12 years. She started her career outside of Chicago and moved her practice to Miller Johnson in Grand Rapids just over seven years ago. She notes that, as a woman, there are always concerns that people aren't taking her as seriously as her male counterparts.
"I've had clients who I sat through an hour and a half meeting with, told them what we're going to do, and they look at me and say: So when am I going to see the lawyer?"
She sees that less and less as she gets older, however.
"You just kind of have to roll with it. If a client wasn't understanding that I was the attorney, I would just explain to them that I went to law school, I've been practicing law for so many years, and this is what I do."
As an attorney who helps families and individuals navigate aging and long-term care, she must be approachable. Stereotypes abound about lawyers being argumentative and aggressive, but Katie's clients are looking for someone who is warm and attentive.
"A corporate client isn't necessarily going to be venting about their mother's caregiving issues and how difficult it is to get them into a nursing home. She's going to come in, look me in the eye and within 30 seconds, make a judgment on whether I'm listening to them, understand what's going on, and care about their situation."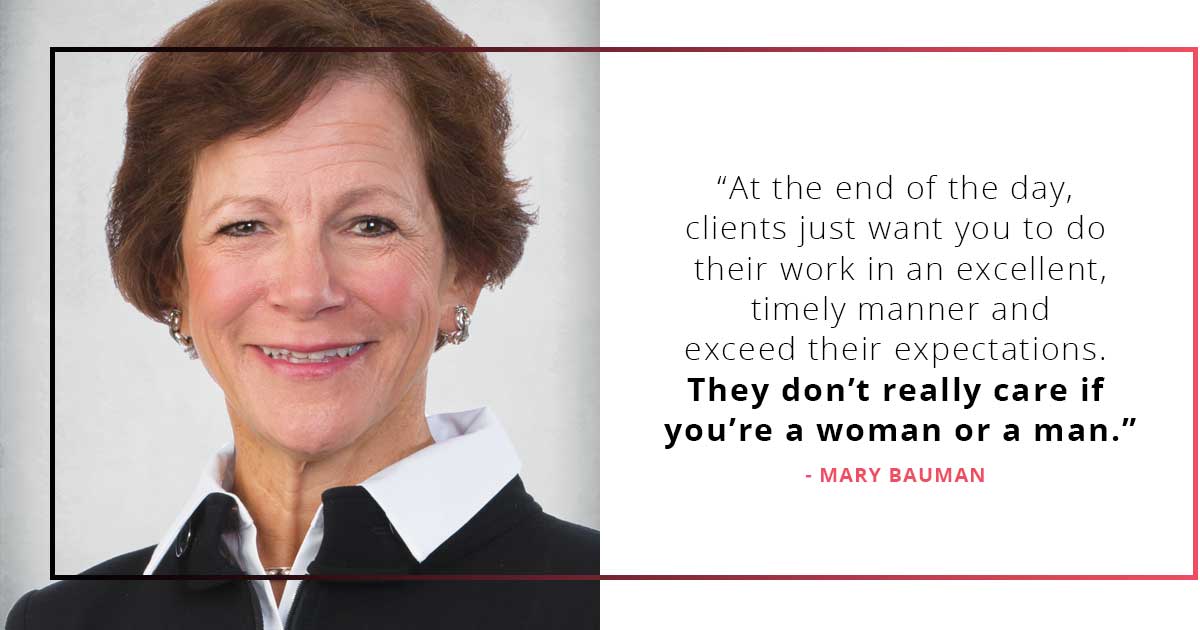 Mary Bauman
Attorney at Law
Mary Bauman is an employee benefits lawyer. She works with employers in establishing, amending and terminating employee benefit plans. "I love it because I love working with my clients. I love being able to solve problems for them in the most cost-effective, positive, constructive way possible. I enjoy the challenge of that."
Mary has been practicing law at Miller Johnson for 32 years, ever since graduating from law school. She notes that law graduates today are more balanced between male and female—maybe even in favor of women.
"There were a few times when I started—but remember that was a long time ago—when I had some particular clients in meetings mistake me for a secretary. I'm sure that didn't happen to any male associates at my level, but that was only a handful of times."
There were also a few instances in litigation settings when she felt the opposing counsel or judge tried to intimidate her—but that may have been because she was young, or because she was a woman or both.
A couple of years into her practice, she went part-time to raise her two children. "That was something that was tolerated, but not welcome." Now, however, Miller Johnson strives toward more family-friendly policies—not just for their female employees, but for their male employees as well.
"Here at the firm, I have not experienced a glass ceiling. I have not experienced a lack of recognition by any of my colleagues. That's been true the entire time."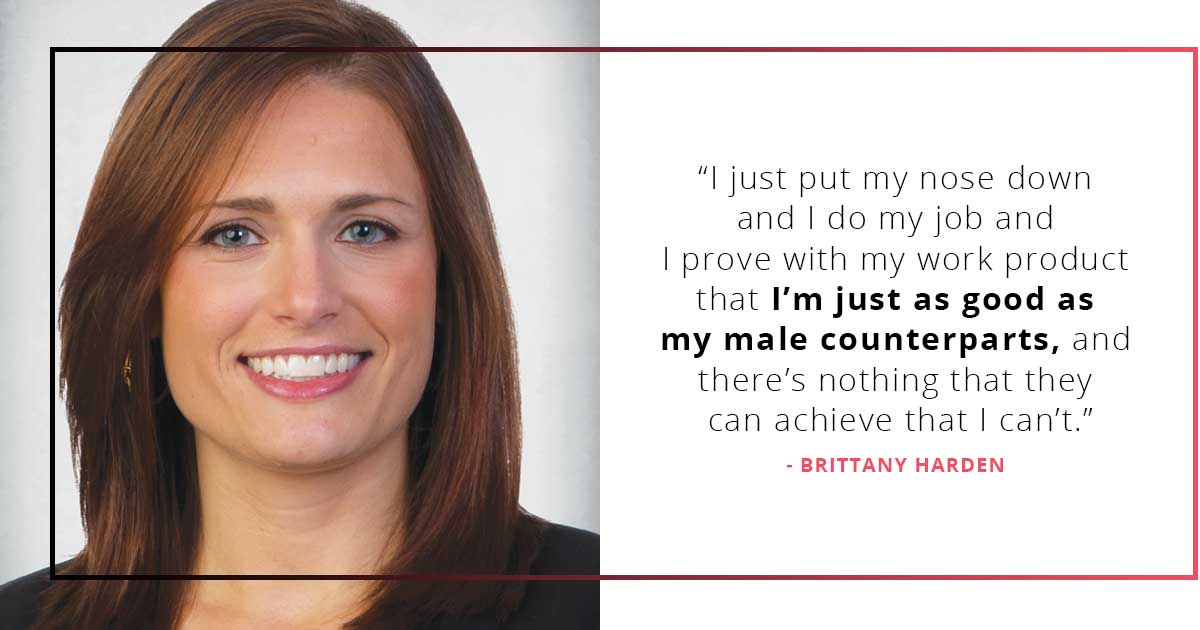 Brittany Harden
Attorney at Law
"I grew up with a family in the automotive industry, and so I kind of had the business, entrepreneurial backbone. I didn't necessarily want to take over the family business, but I was interested by how much we rely on people in the legal career."
Today, Brittany concentrates on advising her clients in the areas of mergers and acquisitions, corporate finance and general business matters.
"Sometimes, I run into men not taking me seriously, but I don't think that's more of a problem than me not being taken seriously because of my age."
Brittany Harden is 30. She's been practicing law for six years. "You cannot be a young woman in the law and walk in and be intimidated or act like you aren't sure what to do. Confidence is definitely the No. 1 thing you have to have."
Yet, that doesn't mean it comes naturally.
"You research, you get to know everything there is to know about the business, and you walk in there with confidence. When you're confident, you instill confidence in your client. As women, we have the ability to step in and show we are just as capable as our male counterparts."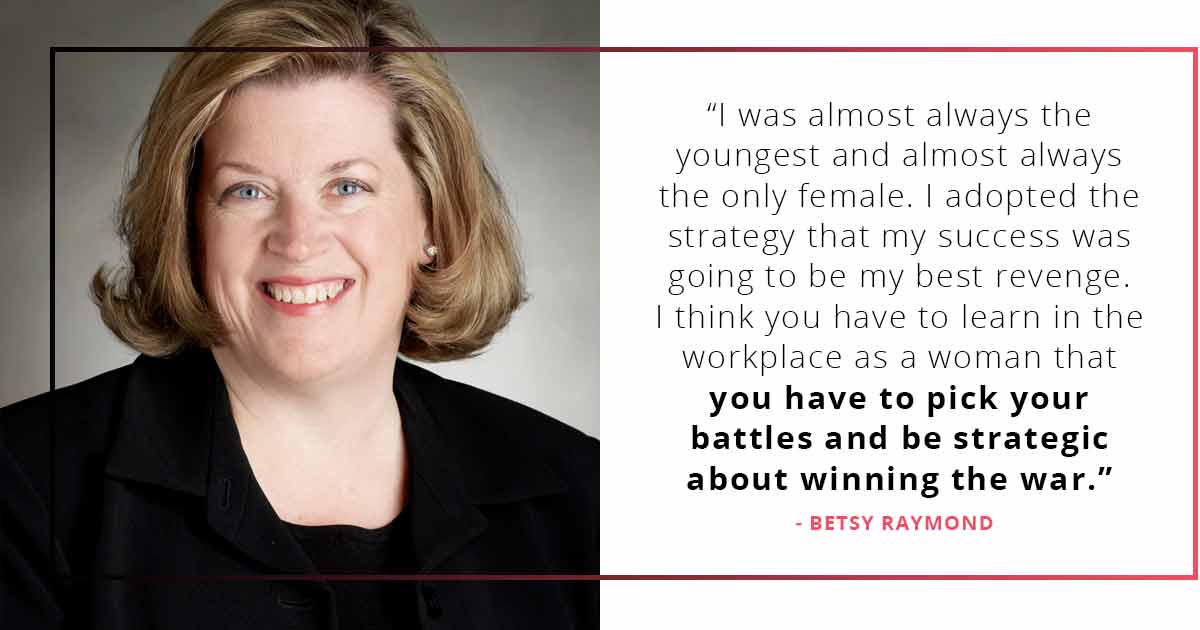 Betsy Raymond
Chief Operating Officer
For many years, the typical law firm management took someone who was at the top of his game as a practicing lawyer and put him in charge as a managing partner.
Miller Johnson took someone who was at the top of her game in business.
Betsy Raymond has been working at Miller Johnson for 12 years as the firm's first chief operating officer. She joined the team after serving as D&W's executive vice president before the company sold to SpartanNash Company.
"I'm always up for a challenge. No one had ever done this role before, at least not at Miller Johnson. People sometimes forget that a law firm is a business. We have a management structure just like every other business. I laugh and say, we sell documents."
Betsy works with seven direct reports—five of whom are women—to support Miller Johnson's management. "We've worked very hard to elevate the business side of the firm. We've made it a better place for the lawyers to practice and a better place for clients."
Early in her career, she was almost always the only female. She was no stranger to sly remarks and rude comments. Today, however, she notes that her biggest career challenge is not so much about being a woman as it is about not being a lawyer.
"Lawyers are typically very educated, very driven and very achievement-oriented. And sometimes, they think they're the smartest person in the room. If it's a business issue, I'm the smartest person in the room. You have to work extra hard to persuade them."
Written by Cassie Westrate, staff writer for West Michigan Woman.